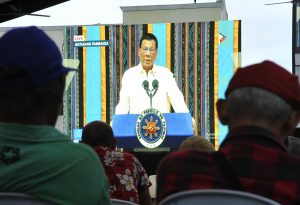 The Police  Regional Office reported nothing eventful that occurred in Davao City during President Rodrigo Duterte's fourth state of the nation address (Sona) on Monday.
Brig. Gen. Marcelo Morales, regional police director, said protesters were monitored and they were generally cooperative with law enforcers. "They culminated their protests at around 1 p.m. on Monday," he said.
Police Director General Oscar Albayalde ordered that starting midnight of July 20, 2019, the PNP will be on high alert to secure the country leading up to the President's Sona at the opening of the 18th Congress.
Morales attributed the peaceful Sona, not just in Davao City but in the whole region as well, to the tight security plan they implemented. The security measures include checkpoints and chokepoints on all roads leading to Davao City. The checkpoints were mounted in Toril, Bunawan, and Calinan.
Police officers and other law enforcers were deployed to shopping malls, beach resorts, churches, markets, airport, sea port, and transport terminals.
Members of the Civil Disturbance Management from Regional Mobile Force Battalion, Davao City Police Office, and Task Force Davao were also on standby in their respective headquarters.
But the police regional director thanked the protesters for holding peaceful demonstrations to air their grievances against the government.
"Our police didn't have to mobilize to caution them," he said.
He said the police respect the rights of people for freedom of expression and assembly. Nevertheless, they have the mandate to ensure that the protesters don't overstep their bounds.