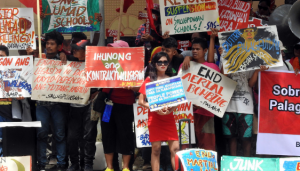 The Davao City Police Office (DCPO) denied the accusation that they harassed leftist groups during the President's state of the nation address.
Bagong Alyansang Makabayan-Southern Mindanao alleged that the police connived with the Land Transportation Office and the Land Transportation Franchising and Regulatory Board to prevent their vehicles from entering Davao City.
In a statement, the DCPO said the jeepney was intercepted by the LTFRB for several violations. These include overloading and being out of line, which violate Republic Act 4136 or the Land Transportation Traffic Code.
"There is therefore no iota of truth to the claim that the government is interfering on their rights to conduct peaceful rallies and assemblies as the law enforcers are merely enforcing the law which was clearly violated," the statement said.
The statement added, "We also would like to reiterate that the Davao City Police Office has exercised maximum tolerance in all our dealing of lawful protest rallies in the past, as we always uphold and respect the rights of every individual including the right to freedom of expression, to peaceably assemble to petition the government but we must not also forget that in doing so we shall all consider the prevailing laws of our Country and exercise self-restraint as not to violate the rights of others."
In a Facebook post of Bagong Alyansang Makabayan-Southern Mindanao, the group said they were threatened by the police and traffic enforcers following their protest action in Davao City against the President's Sona.
When they inquired what their violation was, a police officer reportedly told them that they always see the same jeepney during protest rallies. Then the police called the LTO and LTFRB officials.
"The LTFRB XI, LTO XI, and PNP conspired to harass the driver of the jeepney," the group said, adding that they threatened to impound the jeepney.