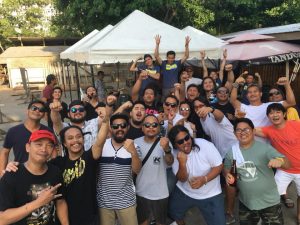 Davao City – Davaoenos mostly sportsmen-businessmen, coaches, drag racers and boxing enthusiasts who flocked at the ReHub resto Sunday morning were elated to see Filipino icon Manny Pacquiao get another victory this time claiming the WBA welterweight title at the expense of American Keith Thurman via split decision.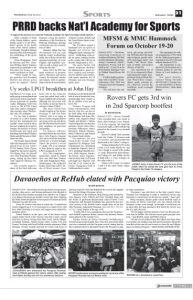 Some 80 viewers took time to watch the 12-round bout which wrapped up at 12:45 noon prior to a round of ice cold beer while listening to acoustic and reggae music played by premium artists.
Island Paradise on the Spot, one of the fastest rising reggae bands based in the Visayas who had a short concert tour here in Davao having Jhon Bert Coral, Gardo Melgar, Zechariah Polintan, Jandel Jaques Hipe Joshua Cloa and Francis Yu along with local acoustic artists and ReHub mainstaiys  Mark Pantujan, Jeremy Castillo and Gab de Castro took turns of playing respective hits that delighted the crowd who happily rejoiced the Manny Pacquiao victory.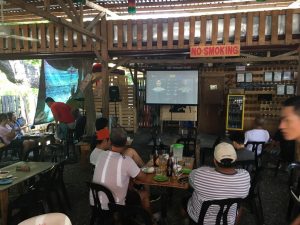 Members of the Mashado Drag Racing team headed by Jem Zamora, Carlo Villoria and Gary Trinidad along with the troika of sportsmen-businessmen John-d Fuerte, Coey Gempesaw and Rommel Estrellado also graced the pay-per-view activity at the ReHub which caught them on an awe after Pacquiao outpointed Thurman via a 114-113, 115-112, 115-112 count despite at the age of 40.
"I really felt it was a unanimous decision for Pacquiao," said football organizer Buboy Arrieta who initiates tournaments played at the Azuela Cove.
Former Ateneo de Davao University football player turned businessman Ronald Junio who also graced the affair was also contented with the Pacquiao victory stating that the first round knockdown did mattered most for Pacquiao to gain an early momentum.
"Pacquiao's age did show in the later rounds where Thurman was attempting to make a comeback but his ring experience counted most in the last two rounds," Junio said.
Weng Sasuman, former grade school football coach at the Ateneo de Davao University was also elated with the Pacquiao victory even though, he thought it would turn out an upset after the ring announcer first bared the victory was due to a split decision.
"We are happy with the turnout of our very first pay-per-view here at ReHub. We will have more sports pay-per-view soon," said ReHub senior staff Pablo Garcia.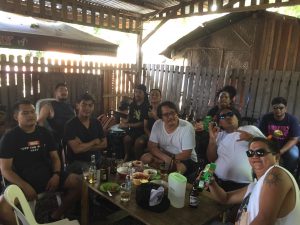 "We did served chilled Tiger Beer Black and Tiger Beer Crystal plus our sizzling sisig and special sausages during the bout that set the tone for our viewers to cheer for our Filipino ring icon Manny Pacquiao," added ReHub staff Raffy Roble.