The country has a rich pool of human resources but many fresh graduates or those who are in need of jobs do not usually know where to start. There are certainly jobs available but finding a nice fit to fill the vacancy could be taxing. The young generation too might still be floundering on what career path to take considering their skills and talents.
The Career Guidance Advocacy Program (CGAP) is one of the flagship programs implemented by the Department of Labor and Employment to provide the youth with information that will guide them to make informed career choices.
Career Advocacy is a law under Republic Act 11206, an act establishing career guidance and counseling programs for secondary schools. It is included as a regular program of the Department of Education with all the help of other agencies including DOLE to guide the youth in choosing a career.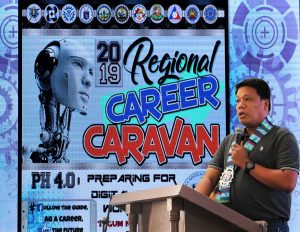 "This is designed to provide our students guidance for a meaningful and rewarding career in the future, " DOLE XI OIC-Assistant Regional Director Jason P. Balais said at the caravan in Compostela Valley and Davao del Norte.
Balais added. "I hope that this will happen to our Grade 10 students today as they will decide later on what career they are going to pursue. We in the Department of Labor and Employment have prepared the world of work for the youth."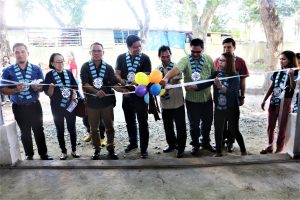 He said they have Labor Market Information (LMI) which highlights the labor demands every now and then in all industries. It is not necessary to finish college for many of the jobs needed in the industries now are actually related to Technical and Vocational Skills.
This is the reason of the partnership with TESDA and with CHED in this program. Balais said that "a career may not always be on track with a four-year course. A student may pursue a Technical Vocational Skills and eventually, that person may become an entrepreneur someday."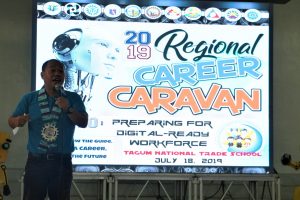 He also mentioned the Job and Skills mismatch which has been addressed by DOLE.
"We are steadily monitoring and updating on jobs needed by the different industries for our jobseekers and future graduates. We are vigorously addressing job and skills mismatch through activities like this. And we are happy to know that the administration of Pres. Rodrigo Roa Duterte has prepared a very good work environment to our economy today and the future for our youth," Balais said,
Marlito D. Ayala, DOLE XI Regional Focal Person on Employment said that all schools are enjoined to let their Grade 10 and 12 students, and the parents to attend the Career Guidance Advocacy Caravan celebration.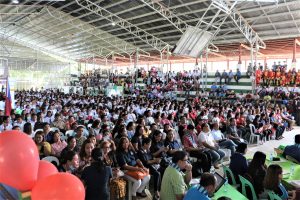 This year, DOLE XI launched the 2019 Regional Career Caravan in six locations in Davao Region namely: Mataio National High School, Mati City, Davao Oriental (July 16); Compostela National High School, Compostela Valley Province (July 17); Tagum National Trade School, Davao del Norte (July 18); Davao City National High School (July 19); Sulop National High School, Sulop, Davao del Sur (July 22), and Mariano Peralta National High School, Malita, Davao Occidental (July 23).
(Eduardo P. Monreal, LCO-Designate, DOLE XI)