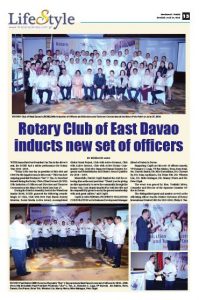 With Immediate Past President Jun Tan in the driver's seat, the RCED had a stellar performance for Rotary Year 2018 –2019.
"Today is the last day as president of this club and I feel I'm the happiest man in this room." This was how outgoing president Prudencio "Jun" C. Tan, Jr. described himself during the Rotary Club of East Davao's (RCED) 55th Induction of Officers and Directors and Turnover Ceremonies at the Marco Polo Hotel last June 27.
During the District Assembly held at the Waterfront Insular Hotel, RCED garnered the following awards: Magic 25 Club, Club with New Paul Harris Society Member, Social Media Active Award, Accomplished Global Grant Project, Club with Active Rotaract, Club with Active Interact, Club with Active Rotary Community Corp, Club who Supported Samar Disaster Response and Rehabilitation and District Award Qualifier for 2018 – 2019.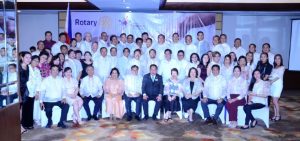 Meanwhile, Patrick Capili thanked the club for selecting him as the next president. "Thank you for giving me this opportunity to serve the community through the Rotary way. I am deeply humbled by both the title and the responsibility given to me by the general membership with such great calibre", said Capili.
Capili is with PHINMA PROPERTY HOLDINGS CORPORATION as its Business Development Manager (Head of Sales) in Davao.
Supporting Capili are his new of officers namely, VP Rossano C. Luga, VP Jim Sabino, Treas. Rene Real, Sec. Darwin Santos, Dir. Hiro Kawashima, Dir. Clarense Sy, Dir. Ranz Apolinario, Dir. Brian Toh, Dir. Winston Lim, Dir. Mike Mabagos, Dir. Manny Nierra and Dir. Peter Digal.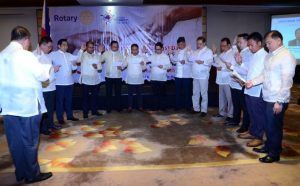 The event was graced by Hon. Yoshiaki Miwa, Counselor and Director of the Japanese Consular Office in Davao.
The distinguished guest and speaker as well as the officiating officer was the District Governor of Rotary International District 3860 for 2019-2020, Philip S. Tan.
By Rossano Luga