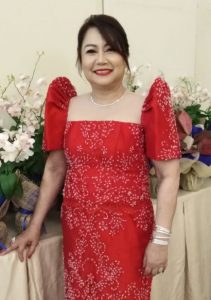 A pure-blooded Davaoena born in San Isidro, Davao Oriental, President Tess came to Davao City to study high school and college preparatory law at the Immaculate Conception College now University of the Immaculate Conception. She finished her Bachelor of Laws at the University of San Carlos in Cebu City, passed the bar and became a college instructor at the University of Mindanao.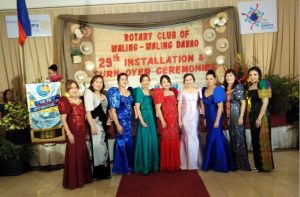 Tess worked as Hearing Officer II at the Bureau of Transportation Franchising and Regulatory Board rose from the ranks and became Regional Director in Region XI until her retirement in 2016.
At the induction ceremony held at the Grand Men Seng Hotel on June 13, 2019, her husband Raul Yniguez, together with their son John Paul and wife and their four children were present to share the honor at the event.
Tess joined Rotary in 1999 and her passion and enthusiasm for RCWWD has earned her many Presidential Citations and Recognition.
Guest Speaker for the evening was Ms. Joji Ilagan-Bian, Honorary Consul General – Bangladesh for the Jurisdiction of Mindanao, who spoke on this year's theme "Rotary Connects the World".
Club Officers and Board – Teresita P. Yniguez- President; Armi Geralyn Espiritu – PE/Vice President; Estela Maribel T. Vilela – Secretary; Marilou Baarde – Immediate Past President; Emmanouelle C. Zhang – Club Administration; Cecilia E. Diaz – Membership; Lolita Leticia J. Tai – Service Projects; Josephine V. Llamzon – Public Service; Luna E. Gaviola – The Rotary Foundation; Elsie G. Libron – Vocational Service; Bai Johanna T. Zainal – Youth Service and Teresita M. Fitzback – International Service.
Light a Heart Foundation, Inc. Officers and Board of Trustees Installation was by Reynaldo Reyes, District Governor RY 1995 – 1996. Charging of Incoming President was by Salvador A. Angala RY 1975 – 1976.
Master of Ceremonies was Dr. Mae Concepcion J. Dolendo, President RY 2009 – 2010.