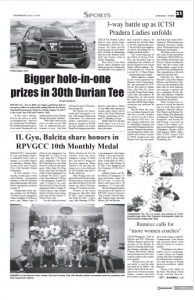 Davao City – Korean Kim IL Gyu and Ronnie Balcita submitted better cards to emerge a co-overall winners on Saturday's Rancho Palos Verdes Golf and Country Club 10th Monthly Medal tournament.
IL Gyu carded a 73 to win the overall gross crown while Balcita, a designated member of the RP shooting team added another title to his belt by winning the overall net scoring 59.
Joining them at the winners podium saw JP Marfori 74 (Class A gross champion), Albert Cainghug 79 (Class A gross r-up), Dennis Capa 70 (Class A net champion), Lee Bong Hee 75 (Class A net r-up), Jong Tan 77 (Class B gross champion), Noe Taojo 80 (Class B gross r-up), King Rivas 67 (Class B net champion), Edito Jualo 68 (Class B net r-up), Kim Tae Jung 80 (Class C gross champion), Joe Lafuente 90 (Class C gross r-up), Vince Batucan 70 (Class C net champion), Arnold Navales 72 (Class C net r-up), Brian Good 91 (Class D gross champion), Biboy Canusa 92 (Class D gross r-up), Hermie Martin 70 (Class D net champion) and George Omelio 72 (Class D net r-up).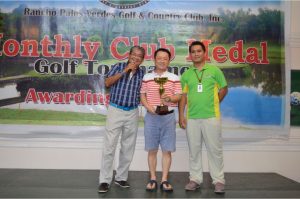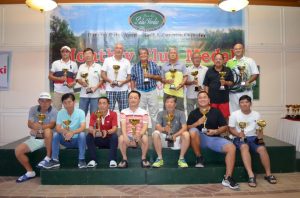 For the Seniors division, Philip Hazlewood led the winners with the gross champion scoring 79 while Boy Tan had 87 fitting for the gross runner-up. Tamio Sakurai's 68 had him the Seniors net crown followed by Vic Gonzales who had 73 for the runner-up.
Park Myung Seon finished with an 86 for the Ladies Division gross crown leaving past Marciel Kim (92) for the runner-up while Christine Canusa (75) took the net title.
Winners in the Guest Division are Shin Woo Chul 85 (Div.1 gross champion), Jun Pedro 87 (Div. 1 gross r-up), Mac Mending 79 (Div. 1 net champion), Jony Santos 78 (Div. 1 net r-up), Jun Narciso 84 (Div.2 gross champion), Frank Buno 85 (Div.2 gross r-up), Kim Heung Su 67 (Div.2 net champion) and Rex Bergante 67CB (Div.2 net r-up).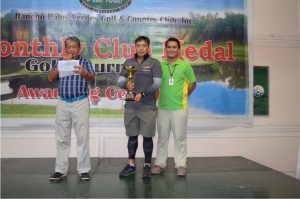 Jungolf winners saw Riley Veloso 117 (champion – 11 years-old-below), Jaime Tan III 135 (r-up – 11 years-old-below) and Jessie Tan Jr. 94 (champion – 12-17 years-old).
Special designed trophies were given to the winners by RPVGCC board of director Ting Castillo, General Manager Tommy Inigo and Karl Moises.