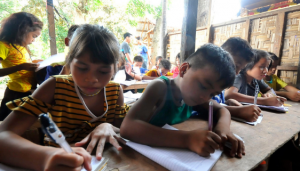 A Department of Education (DepEd) XI official has asked the public to stop using Lumad school as general term to refer Salugpongan Ta 'Tanu Igkanogon Community Learning Center (Salugpongan).
"What we have here is not a Lumad school, it is a private institution serving or catering to Lumad learners and there is a big difference between a Lumad school and a private institution catering to Lumad learners," DepEd-Region 11 spokesperson Jenielito Atillo said.
"When we say Lumad school, everyone is Lumad – from the officials up to the learners are Lumad and the ones who work hard for its establishment are Lumad. Our private learning institutions like this, the officials are not Lumad, they only serve Lumad students," Atillo explained.
Atillo said, using Lumad school impact the public's sympathy that sometimes result to a bias opinion against DepEd.
However, the definition of a Lumad school is clearly stated in a department order which recognizes private learning institutions to serve Lumad schoolchildren.
DepEd issued Order 21 series of 2014 underlined that "In line with the provisions of DepEd Order No. 62, s. 2011 entitled Adopting the National Indigenous Peoples Education Policy Framework and the efforts to make policies more culturally sensitive and responsive to the different contexts of schools and communities in the country, the Department of Education (DepEd) is adopting the enclosed Guidelines on the Recognition of Private Learning Institutions Serving Indigenous Peoples Learners."
"The DepEd recognizes the important contribution of Indigenous Peoples Education (IPEd) programs being implemented by non-government and community-led institutions in improving access to culture-based basic education services. The DepEd-Indigenous Peoples Education (IPEd) Office, together with the regional and division offices, shall facilitate the recognition process and provide technical assistance as needed to such private learning institutions seeking recognition."
Meggie Nolasco, executive director of Salugpongan, said that they have all the requirements to operate the schools and had in fact been one of those institutions that lobbied for the establishment of Lumad schools under then Education Secretary Armin Luistro.
But Atillo maintains that "Originally Salugpongan Ta 'Tanu Igkanogon was not a learning center, it was an organization created by Datu Guibang to safeguard their rights being a tribe, it is only now that it became a learning center. If you look into the list of incorporators, they're not Lumad."
Behind the establishment of this community learning center is a non-government organization (NGO), the DepEd spokesperson said.
Way back 2003, the indigenous group Salugpongan Ta 'Tanu Igkanogon sought the assistance of indigenous peoples' advocates and the Rural Missionaries of the Philippines to set up the learning school that started as a literacy-numeracy school for adult Lumads in Palma Gil Village, Talaingod town.
Four years later, the Department of Education (DepEd) accredited the learning center as an alternative learning school, and later started teaching preschool to elementary.
Investigation
The progressive Makabayan bloc in the House of Representatives is calling for a congressional investigation into the temporary shutdown of 55 Salugpongan schools in Southern Mindanao.
Reps. Eufemia Cullamat, Carlos Zarate, and Ferdinand Gaite of Bayan Muna, France Castro of Alliance of Concerned Teachers, Arlene Brosas of Gabriela Women's Party and Sarah Elago of Kabataan, have filed House Resolution (HR) No. 58 on Monday.
The lawmakers said DepEd temporary closure of the schools is a "flagrant violation" of the rights of Salugpongan.
Education Secretary Leonor Briones has asserted the suspended schools were not able to comply with regulations.
The suspension order was issued based on a report by National Security Adviser Sec. Hermogenes Esperon Jr. that the schools were teaching students to rebel against the government, an allegation that President Rodrigo Duterte also made in 2017, when he threatened to bomb Lumad schools.