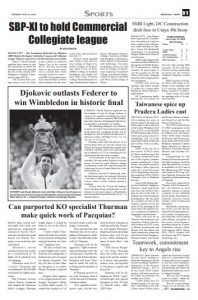 Davao City – The Samahang Basketbol ng Pilipinas (SBP) Region XI chapter will hold a Commercial Collegiate League which is expected to reel off sometime next month.
Some 17 schools already signified their intent to join the tournament in which the champion team will represent the city in the coming 2019 Philippine Collegiate Champions League (PCCL).
"We invited these college teams to join for them to get a chance to represent Davao City in the coming PCCL. We also encourage them to get private sponsors to sustain their teams through financial terms," said SBP-XI regional operations head Ronnel Leuterio after meeting with the interested team representatives last July 13.
Schools which signified their intent to join saw Cor Jesu College of Digos City, MATS College of Technology, Holy Cross of Sasa, DMMA College of Southern Philippines, San Pedro College, Holy Cross of Davao College, Rizal Memorial Colleges, Brokenshire College of Davao, Philippine Women's College, University of Mindanao Penaplata, Asian International School of Aeronautics and Technology, University of Mindanao Davao, St. John Paul II College of Davao, Agro Industrial Foundation College, Jose Maria Colleges, Ateneo de Davao University and Holy Child College of Davao.