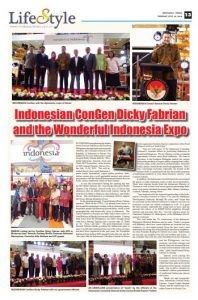 In further strengthening the bilateral ties between Indonesia and Southern Philippines through trade and economic relations, the Consulate General of the Republic of Indonesia in Davao City headed by the new Indonesian Consul General Dicky Fabrian held the "Wonderful Indonesia: Tourism, Food and Trade 2019 Exposition" at the Atrium of SM Lanang Premier, Davao City, last July 12-14, 2019. The well attended launch showcased Indonesia's prime tourist destinations, export quality products, Indonesian cuisine plus a well applauded musical and cultural presentation with the talented Indonesian performers dressed in the various traditional outfits of their country.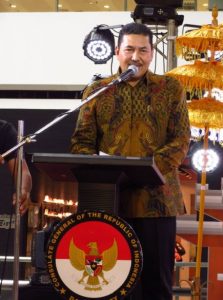 It was also announced during the opening day that the MV Baltic Summer, the vessel being utilized by Reefer Express Line Filipinas, arrived in the port of Davao that afternoon after an almost three-week journey taking off from Ho Chi Mihn to Malaysia, then Indonesia, and finally Davao. This development is a continuing effort to support the Davao-Bitung shipping service.
In his opening message, Consul General Dicky Fabrian narrated, "Back in the 1970's, I've already been aware of this beautiful archipelagic country with its charming nature, hospitable people and enormous potentialities, which is both geographically and historically close to Indonesia. The reason behind it is because my father had a short course on Land Reform in Manila for four-and-a-half months. Coming back home from the Philippines, my father brought along with him a Barong Tagalog and a cassette tape of 'Dahil sa 'Yo.' Now, I am here." The good Indonesian Consul General Fabrian (thanks goodness his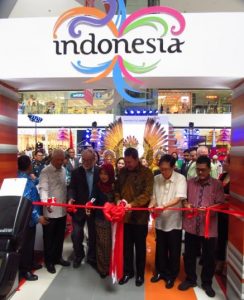 Indonesian name is easy to recall) also mentioned that out of the series of expos that have been organized in the past years, the Wonderful Indonesia Expo held at SM Lanang Premier this year was the "first time that the Indonesian Consulate General in Davao City organized a Tourism Expo in conjunction with a Food Expo as well as a Trade Expo."
"You are well aware of the Indonesian Consulate General's constant efforts in promoting Indonesia in Southern Philippines. We are offering you this wonderful opportunity to know more about Indonesia. We want to introduce to the Southern Philippine market the various Indonesian products of export quality ranging from coffee, biscuits, chips, wafer, tuna floss, instant noodles, chocolate drinks, snacks, herbal drinks and food supplements. That's why I encourage everyone, especially our friends in the business field, to expand and look into the possible potential of Indonesian products as your future business venture," said ConGen Fabrian.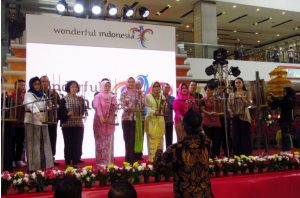 In addition, the Indonesian Consul General also encouraged the guests to make Indonesia a part of their travel destination. There were tourism booths from the Indonesian Ministry of Tourism as well as from local travel agencies promoting Indonesia's top tourist destinations namely Bali, Jakarta, Surabaya, Lombok, Manado, among others.
"I am inspired with the sustained partnership of the Indonesian Consulate General in Davao City and the Mindanao Development Authority through the years; and I hope that we can bank on this bilateral relations to improve not just our economic ties but our cultral exchanges as well. It is good for more people, especially the young ones to know and appreciate the culture of its BIMP-EAGA neighbors through exhibits and activities like this," was the response given by Chairman Nathaniel D. Dalumpines of the Mindanao Development Authority.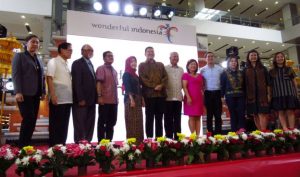 This year marks the 70th Anniversary of the Indonesia-Philippines Bilateral Relations and as such, "Today's program will definitely show how warm relations are between our two countries—a vast improvement from the past years—and underlines the strong ties of brotherhood between us neighbors. As what President Rodrigo R. Duterte once said, 'Indonesians are not only our neighbors but also our brothers and sisters…I am confident that with the solid friendship between Indonesia and the Philippines, our two countries can better manage and benefit from the increased access in trade and investment with each other," said Consul General Dicky Fabrian in closing.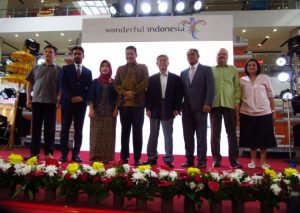 Indeed, from among the consulates in Davao City, it is the Consulate General of Indonesia which has been quite active in the promotion of its tourism, food and trade. Not to fail to mention its wonderful cultural presentations of traditional Indonesian dances and music.
Thank you and congratulations, Indonesian ConGen Dicky Fabrian, Consul Endah Rachmi Yuliarti and the Indonesian Consulate General in Davao City.