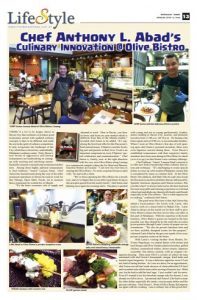 There's a lot to be happy about in Davao City that continues to produce good restaurants armed with updated culinary concepts to dare to be different and outdo the rest in the spirit of culinary competition.
It truly invigorates the foodscape of the City which has evolved into, undoubtedly, Mindanao's culinary center. Truly, Davao's new breed of aggressive and daring restaurateurs are hardworking in coming up with exciting and satisfying menus backed by extensive research and continuous kitchen tests. Among these highly admired restaurateurs is chef Anthony "Anton" Lanuza Abad. Chef Anton has learned much along the way in the other restaurant operations in Davao he used to work for like Vikings, Open Table, Nords, not to mention those restaurants he worked for in Manila.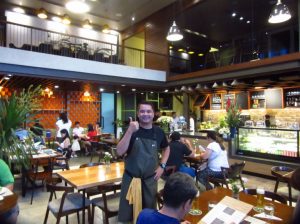 "It's the basic economic rule of supply and demand at work. Here in Davao, you have to know and focus on your market which is different from that of the Manila market," revealed chef Anton as he added, "It's supplying the best food offer for the Davaoeno's hard earned money. Filipinos consider food a big part and passion in their lives. Food is an important component in every Filipinos' special celebration and commemoration." Chef Anton is, luckily, now in the right direction with his very own Olive Bistro along Lanang in a commercial complex where the Go Hotel and Phoenix Gasoline Station are located. "I am now my own boss in running the Olive Bistro. No more corporate bosses to deal with," he said with a smile.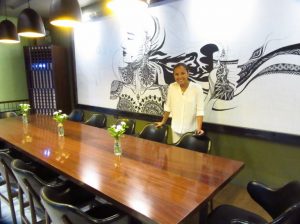 "We've been operating the Olive Bistro for a month now; and we're happy that we are able to get diners living in this area plus guests from the nearby hotels," chef Anton said flashing once again his winning smile. The place is packed with young and not so young professionals, foodies, aliens residing in Davao City, tourists, and domestic travelers from 11:00 a.m. till 10 p.m.
On Sundays the bistro opens early at 8:00 a.m. to accommodate families. When I went on Olive Bistro's first day of soft opening upon chef Anton's personal invitation, there were even Japanese tourists dining there. Even Davao's established restaurateurs with their respective family members have been seen dining at Olive Bistro to check (or is it to spy) on chef Anton's new culinary offerings.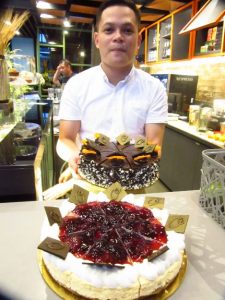 Chef Anthony "Anton" Lanuza Abad's mission is to offer new food concepts that reflect culinary innovation and technique. "It's challenging to create special dishes to come up with modern Philippine cuisine that is considered by many as comfort food. At the Olive Bistro, My sidekick, chef Dale Yulo-Sy and I also tweak the Davaoenos much loved dishes that are influenced by Spanish, American, Japanese and Chinese cuisines. But just like what I've always believed in, the best food and the most enjoyable and relaxing experience is to be had when food and drinks are shared with family and friends especially at the Olive Bistro. This is what inspires me in cooking," confessed chef Anton.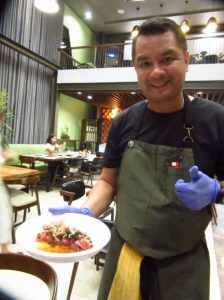 The good news this time is that chef Anton has added a loyal partner—his lovely wife, Lanie, who used to work in a classy hotel in Makati City. Lanie Abad is always on the watch out for their staff to give Olive Bistro's diners the best service they can offer in this part of Mindanao. With her expertise in the hotel business, Olive Bistro's guests are treated in the best possible way they should be by the staff who are often given pointers through Lanie's series of proper service orientations. "We also do private functions here and we have stylishly designed rooms for this purpose," informed Lanie Abad as she gave me a peek of two cozy private reception rooms at the bistro.
With Lanie's visiting brother from Manila, Dr. Nestor Pagulayan, we started dinner with tomato and basil bisque and Olive Garden salad of meschun, grilled chicken, caramelized walnut, cherry tomato, Japanese cucumber, feta cheese, pomelo, with an oregano vinaigrette dressing. Then came Olive's ceviche of yellow fin tuna marinated with chef Anton's homemade vinegar, fried leeks and toasted vigan longaniza. It was a delicious appetizer even if I am not fond of eating kinilaw. As I was in a hurry for an appointment, chef Anton served beef steak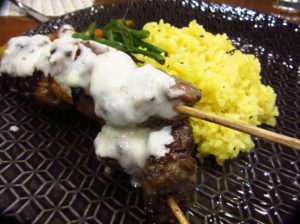 skewers of charcoalbroiled US beef and cucumber raita which came with a serving of tumeric rice. Mind you, but he had to add the beef ragu. I just couldn't ask for more. Even if I wanted to try his chocolate orange cake for dessert, I was already too full to do so. I promised chef Anton I'd be back to taste his other dishes especially his steaks, various pasta dishes and the peri peri chicken. Chef Anton L. Abad of Olive Bistro did impress me again with his cooking. I am a culinary fan of this good chef.