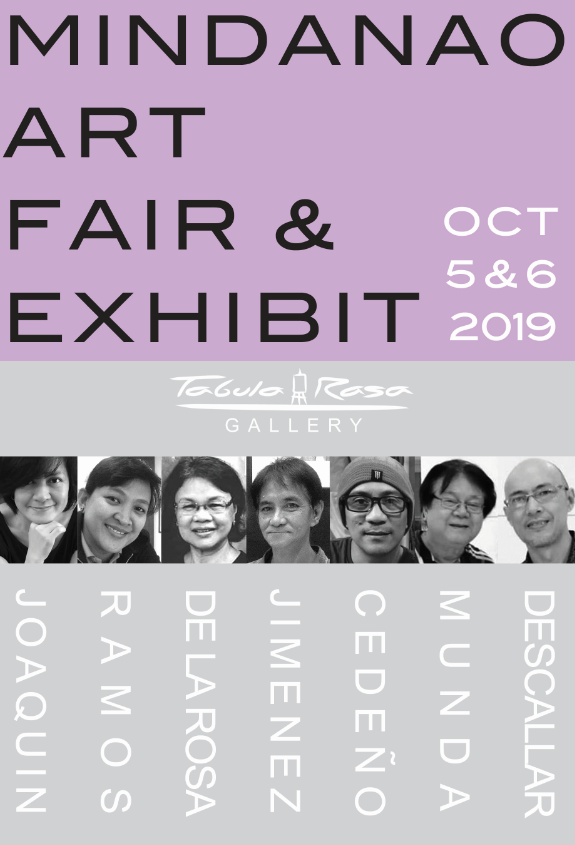 Opportunities are opening for Mindanawon artists. This year, a notable art event will connect our Mindanawon artists with collectors and gallery owners from Manila.
Featured in the upcoming annual first Mindanao Art Fair and Exhibit (M.A.F.E.), is the Tabula Rasa Gallery (TRG). It is one of ten exhibitors, six from Davao and four from different provinces in Mindanao. Among these are the Bintana Art Gallery, Art Portal, and Piguras. The exhibitors from the rest of Mindanao are from Bukidnon, Cagayan de Oro, Zamboanga, and Socsargen.
The TRG artists who specialize in classic realism and impressionism are Jane Ramos, Dadai Joaquin, Madoline de la Rosa, Jojo Jimenez, Daryl Descallar, Brando Cedeño, and Dinky Munda, Jr. Brando is the lone sculptor while the six are painters.
This year's M.A.F.E. is the first of envisioned annual series, supported and funded by the National Commision of Culture and the Arts (NCCA) and the National Commission of Art Galleries (NCAG).
The M.A.F.E. is scheduled on October 4 (Gala opening, 6pm, by invitation only), October 5-6 (open to the public). The venue is at the Gaisano Mall Atrium, on J.P. Laurel, Davao City.
Visitors and art lovers will be scheduled for an art tour around our city. Complementing the M.A.F.E. will be art exhibits at Art Portal, Bintana Art Gallery, Art Centrale, Datu Bago DCHS Gallery and others. October will be declared as Davao City's 'ART MONTH'.
There will be an Art Conference at Cinematheque on Oct 5. On the podium will be nine well-known artists, curators, art critics, and gallery owners invited from Metro Manila.
The Tabula Rasa Gallery artists are today busy preparing their artworks — with the objective of striving to be the best visually impressive exhibit at M.A.E. The exhibit is curated by Ega Carreon
The art theme selected by the TRG artists is "LIVING & LEAVING" in response to the M.A.F.E's theme: "THE RIVER OF CREATIVITY".
Don't miss the first M.A.F.E. See the works of different aritsts in Mindanao and visit the Tabula Rasa Gallery.
JOIN THE BIG KADAYAWAN ART SALE AT FELCRIS CENTRALE
Inviting artists to sell their paintings and sculpture at Felcris Centrale Atrium on Aug 1 to 31, 2019.
Open to Elementary, High School , Sr HS, College F/A, Art groups, galleries, solo artists.
With your participation, this art exhibit could be the biggest and longest-running show yet.
KEY DATES: INGRESS- Aug 2&3 (Bring you own easel & panels, 8PM). OPENING- Aug. 5, 6pm.
EGRESS- 31 Aug, 8pm. NO PARTICIPATION FEES
SALES: Focus on "AFFORDABLE ARTWORKS. 70% to artist, 30% to organizers.
IMPORTANT: Pls confirm asap before 20 July. 1st come, 1st served on limited spaces.
ORGANIZERS: Felcris Centrale, G.A.M.A, Tabula Rasa
Contact Rolando Pino-on or Dinky Munda, Jr at FaceBook.