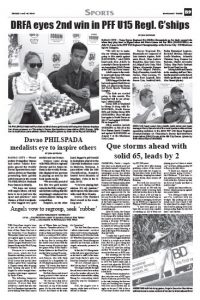 Davao City – Team Davao Regional FA (DRFA)-Hexamindz go for their second win when they play host to Iligan-Lanao del Norte-Lanao del Sur RFA (ILNOSURFA) on July 13, 3 p.m. in the PFF U15 Regional Championships at the Davao City –UP Mindanao Sports Complex.
"We will try to maintain our winning momentum going to this match against ILNOSURFA," said DRFA headcoach Alex Adolfo in yesterday's Davao Sportswriters Association (DSA) Forum at the SM City Davao Annex.
Adolfo came to the weekly sports gab along with team manager Gary Zanoria.
DRFA bagged its first win last week against North Davao RFA, 2-1 played at the Davao del Norte Sports Tourism Complex.
"The kids are excited going to this match. The hometurf will be our advantage," added Adolfo.
Davao RFA is bracketed in Group G along with ILNOSURFA, North Davao RFA and Golden Davao RFA (GODARFA). They will play host again to North Davao on July 27 and against GODARFA on August 10.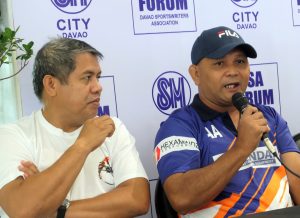 Other matches include GODARFA on July 20 at the New Bataan Sports Complex and against ILNOSURFA on August 3 at the Mindanao Civic Center.
Davao Regional FA-Hexamindz are composed of Luis Antonio Aquino, Saidamin Bacol, Gian Andrew Bernaldez, Gian Carlo Caserial, Miguel Luis Cerin, Uriel Dalapo, Alessandro Romero Ea, Jose Miguel Fabello, Jhojie Fernandez, Arseth Jelo Jayubo, Gian Lacerna, Vianney Ross Lagundi, Matthaeus Lim, JanfritzLlubit, Psalm Emmanuel Loquero, Breindel Medina, Rhianne Axelle Mendoza, Arlauvils Christian Osog, Ronmer Lei Paciente, Charlze Alexander Pichon, Gian Paolo Sartirani and Roent Kent Lee Sia.
Joining Adolfo and Zanoria in the coaching staff are Christian Ea (assistant coach), Ronoel Garfin (goalkeeper coach) and Alex Gamat (physio).