The 24th French Film Festival in Davao was showcased in one of the mall cinemas here.
Quite a surprise that it's actually the 24th year of the exhibition. The French film fest follows another foreign film retrospective: films from famous German director Wim Wenders at the Cinematheque Davao all Fridays and Saturdays of June, the last two films unfortunately I wasn't able to catch because it already coincided with the FFF.
Which meant that the exhibition this year offered an interesting lineup: critically-acclaimed films previously exhibited in major international film festivals and films from directors whose work I am familiar with. Last year, Olivier Assayas' Personal Shopper, starring Kristen Stewart in her surreal best, was hard to top with any of the films I saw this time around, but none of them have been a total disappointment.
Even the exhibition's opening film, Gilles Lelouche's Le Grand Bain (Sink or Swim), which is actually my least favorite from the batch, managed to be entertaining and moderately funny. Its selection as opening film was quite obvious—it was a crowd-pleaser. The audience erupted in laughter, with someone behind me even shouting "viva le France!" The story is about a group of 40-to-50-something men who formed an unlikely all-male synchronized swimming team. Husbands and fathers who are in the middle of crippling depression or your usual stereotypical misfits and weirdos, coached by two women who carry emotional baggage themselves. The moments that led them to represent France in an international tilt range from riotous to ridiculous, so when they enjoy a brief moment of Norwegian sunrise, you let them bask in the camaraderie and collective joy of triumph over the impossible.
There's also this careful, captivating dissection of structural violence through the lens of divorce and familial breakdown in Xavier Legrand's Jusqu'a la'garde (Custody), winner of Best Director at Venice, and a major winner at the Cesar's (the French Oscars). It's a marvel of directorial precision considering this is Legrand's directorial debut. The final tense and terrorizing moments brought about by the father's uncontrollable violence will make us backtrack the entire film that led to the entire escalation all the way to its opening scene, a clinical legal proceeding of a custody battle that examines our own judgments.
Legrand's film played back-to-back with Jean Paul Civeyrac's Mes provinciales (A Paris Education), probably a typical French film, to put it simply. When you're a cinephile, it's either you'll laugh or love at the self-awareness, self-referentiality and indulgence in the film. Scene after scene are filled with smoke-and-liquor-addled debates on cinema, ideology and philosophy. Yet I can't take my eyes off it or disengage from it totally. The story centers on the travails of Etienne who moved from Lyon to Paris to study film. He eventually breaks up with his girlfriend, gets entangled with his female roommate, and is enamored by this rebellious classmate. But what I like about it is the gravity it places in moments of conversation, reflecting what it's like to be passionate about things that matter to one's self, whether it's art, film, advocacy, or active protest.
My favorite from this batch, however, is not from a group of men but from a band of girls—in Celine Sciamma's Bandes de filles (Girlhood). A portrait of contemporary, multi-racial France, it centers on African-French community of adolescents and the difficulty of coming to terms with identity and womanhood in a foreign nation. The story, which is told through the eyes of Meriame/Vic, is one of breaking-free and overcoming. The struggle is always present and oftentimes the weight is palpable if you're a minority but the film offers the comfort that lies in friendship and an argument in favor of the inherent strength you find amongst those who belong to your same tribe.
The film does feature perhaps one of my favorite moments in cinema in recent memory: a scene that finds Vic and her girlfriends in a hotel room succumbing to the joy of singing along to Rihanna's Diamonds. It's such a self-contained scene, encapsulating the film and character in one rhapsodic moment of bond. And much credit goes to Sciamma and her cinematographer Crystel Fournier who films the scenes with a sense of longing and preternatural beauty, tracing heartbreak, desire and joy of lives at the margins.
The rest of the films also portray woman-centered narratives: from the lawyer who just needs a break from the hysteria of modern life in Justine Triet's In Bed with Victoria to Serge Bozon's tragicomic reimagination of Dr. Jekyll and Hyde in Madame Hyde, which stars iconic and prolific French actress Isabelle Huppert, to the closing film, Barbara, another French icon, directed by French actor-director Mathieu Amalric.
Amalric's interpretation leans more on the visceral, visual level. It's an arthouse piece, that even though I couldn't really connect to it on an emotional level since I am not familiar with the subject, I was still ecstatic and enjoyed the fact that I got to see such a film on the big screen. The film feels raw, like an unfinished, rough version of a final cut, which is precisely what has drawn me into it. The intentional, sometimes disorienting shifts in visual textures, gives off a dreamlike reimagination of a personal so larger than life and difficult to pin down.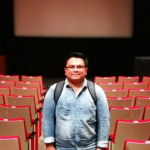 Jay is a film critic and film programmer for Pasalidahay, a film collective in Davao composed of film enthusiasts and filmmakers advocating for Filipino film appreciation.