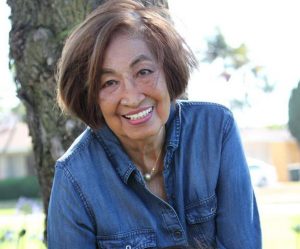 I was excitedly roaming around Binondo, after years of not having visited Manila's interesting Chinatown, when I got an unexpected call from Dr. Doris Tagle-Villareal. It was bad news. Doris did not mince words when she told me that our beloved Tita Daisy Estipona-Estioko had passed away. I was shocked. Before I left for Manila, I called Tita Daisy's home wanting to ask how she was doing but nobody was answering my calls. I didn't know she was seriously ill and confined at the Davao Doctors Hospital. A few months before when we last talked, she had asked me to treat her and Tita Nenita Belda vda. de Azarcon to lunch at Tiny Kitchen. When Tita Daisy celebrated her 84th Happy Birthday last January 10, 2019, I still remember her telling me that all she wished for was "to be happy and healthy in her old age." She made it known to us that that birthday celebration of hers held at the Vikings of SM Lanang Premier was both her celebration of life and her thanksgiving for having survived her operation in the USA.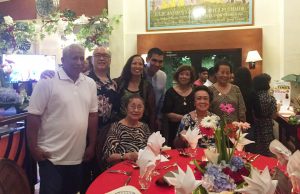 It was during the celebration of the 50th Anniversary of Carmen "Nitang" Dakudao-Locsin's ballet studio that I first met Tita Daisy. We were together, along with the other former diva dancers of the Locsin Dance Workshop, performing a modern dance number choreographed by maestra Bing Locsin for the anniversary presentation which was directed by the strict dance maestra Agnes Locsin. Tita Daisy told me then that she was with my mother, aunties and cousins who comprised the earliest batch of ballet students of Tita Nitang, She narrated, "At that time, you have the closely-knit elite class of Davao, which was not really a big group, supporting ballet in the City. Their acceptance of dance, I think, must have been influenced by their constant exposure to Hollywood musical films being shown in Davao's theaters…It impressed Davaoenos who patronized these films and gave them a good understanding of what dance or ballet was all about…It was a different time. There was not much entertainment in Davao then…And those that took the classes had the love and interest in what they were doing. Parents did not have to force their daughters to do it. As I said, it was a different time ."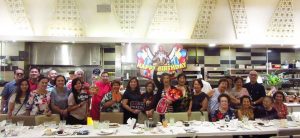 "My mom studied ballet at a young age with Mrs. Locsin where her passion for ballet and the arts were ignited. She danced pas de deux with Alfonso 'Boy' Guino-o who became one of her lifelong friends. She was offered a scholarship grant to study Nursing at the University of San Francisco which brought her to America at the age of 17 years old. Upon arriving in San Francisco, she quickly decided to refuse the scholarship and instead, pursued a Bachelor of Fine Arts degree. Oh yes, she continued taking ballet classes with the San Francisco Ballet," revealed Marie Emily Estioko-Kletke, Tita Daisy's only daughter who lives in Long Beach, California, USA. I still remember Tita Daisy dancing the rigodon de honor in Hijos de Davao with me as her partner. Boy, she really prepared for the special event looking so lovely in her vintage Maria Clara ensemble formerly owned by her mother who was also among the earliest dressmaker of Davao City in the prewar era.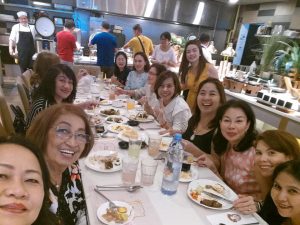 As to Tita Daisy's undeniable love for fashion, she studied the techniques in sewing and garment construction at the Emporium, Fabrics and Sewing Center in San Francisco from 1953-1957. With her years of experience acquired from the US Fashion Industry she was exposed to, it worked to her advantage when she opened her own shop in Manila from 1968 to 1996. Tita Daisy had her sewing livelihood project where she taught housewives from Davao's poor communities how to make clothes to earn their much needed income. Oh yes, I still remember the time I requested her to donate new habits for the Carmelite nuns. Tita Daisy didn't loose time in soliciting funds from us her friends, took the nuns' measurements, bought the needed materials, and, with the help of her students in her sewing classes, presented the grateful and happy Carmelite nuns with their new habits. The good woman was ever willing to help those in need. She also had a feeding project for orphans and poor children.
As Tita Daisy was well known for being such a versatile fashionista, she worked hard to maintain her figure. As such, she was a most dedicated client, the most senior at that, at the Holiday Gym where she took aerobics classes, yoga plus lifted weights. She was well-loved and respected by her classmates, gym instructors and the gym's front desk staff.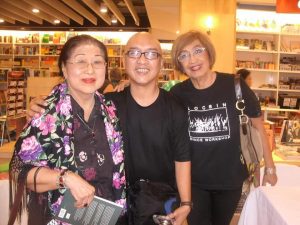 "We have lost a fine and most memorable woman. Daisy Estipona-Estioko will always be remembered as a strong and passionate woman who was an artist, fashion designer, life coach, community leader, philanthropist, gym rat…She loved being surrounded by people with vibrant energy. She loved all her friends; and was a source of comfort, compassion and love. Her life was a true expression of how she celebrated each moment, each experience, each emotion to the fullest," Marie Emily E. Kletke impressed on us who attended the memorial dinner for Tita Daisy held last July 6 at Bistro Rosario. It was a happy gathering of Tita Daisy's various friends and relatives who were warmly welcomed by Marie Emily E. Kletke and her grandson, Eduard, and Kirk Steven E. Estioko. Thank you, Amylou Lizada-A'arts, for being such an accommodating friend of Tita Daisy.
To Marie Emily Estioko-Kletke and Kirk Steven E. Estioko, we thank you for sharing your mom with us. Indeed, Tita Daisy had touched the lives of many who are truly grateful to her in return. May you rest in everlasting peace, Tita Daisy.