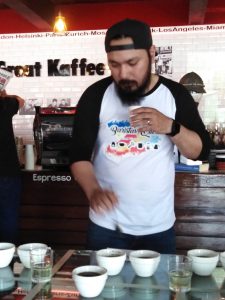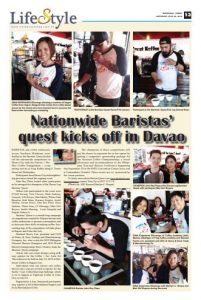 Baristas and coffee enthusiasts across Southern Mindanao were thrilled as the Baristas' Quest kicked off the nationwide competition in Davao City with the Flavors + Profiles: Coffee Triangulation — a cup tasting activity at Frog Kaffee along F. Torres Street last Wednesday.
Participants from Davao City and neighboring provinces joined the cupping event.
John Rey Plaza bested other participants as he emerged the champion of the Davao Leg Baristas' Quest.
Others who participated in the event were O'Nell Ga-ang, Fritz Llavore, Mark Anthony Lacuesta, Life Secuya, Glen Martin, Wilson John Benolira, Kirk Khan, Harmon Natalya, Joefel Manlep, Joenar Ponce, John Rey Plaza, Dana Jardinez, Yhanz Enay, CJ Ellorango, Mari Girl Royeca, Jenifer Masinog, Louie Pempeña and Paquito Nahiyo Jr.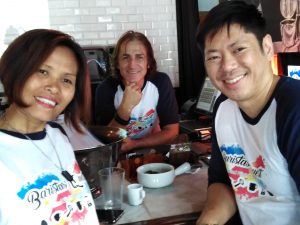 Baristas' Quest is a month-long campaign of competitions created for Filipino baristas and coffee enthusiasts to promote camaraderie and to showcase their skills in making coffee. Succeeding legs of the competition will take place in Baguio and Cebu this July.
Machael Harris Lim, president and CEO of Henry & Sons Trading and Manufacturing Company, Inc. who is also the 2019 Philippine National Barista Champion and 2019 World Barista Championship Semi- Finalist, leads the Baristas' Quest campaign.
Artists who can create designs using milk may register for the Coffee + Art: Latte Art Throwdown to be held on July 10, 2019 at Halfroom Coffee in Baguio City.
Individuals who can extract rich coffee flavors into a cup are invited to register for the Kettle + Cup: Coffee Brewing Challenge, which is set to happen at Tightrope Coffee in Cebu City on July 25.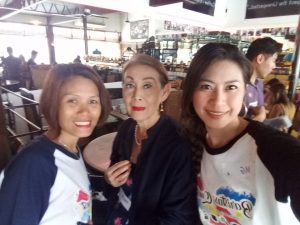 Registration is free. Interested participants may register at bit.ly/BaristaQuest-Baguio and bit.ly/BaristaQuest Cebu.
The champions of these competitions will get the chance to represent his or her region by getting a competitor sponsorship package for the National Coffee Championships, a travel allowance and accommodation to the Philippine National Barista Conference happening this September 20 at the SMX Convention Center Aura, and a Comandante Grinder! These events are co- sponsored by the venue partners.
To know more about Barista Quest visit
www.facebook.com/baristasquest/or contact Tony Dy at 0917 153 118
(Photos by: MG Royeca/Marilyn C. Roque)