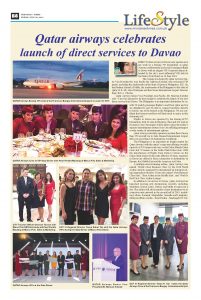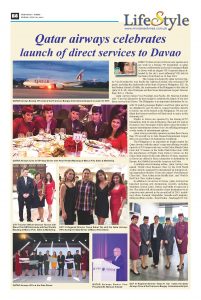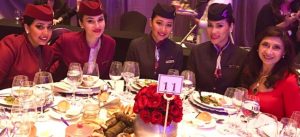 Direct return services to Davao now operate once per week by a Boeing 787 Dreamliner as Qatar Airways celebrated the arrival of its inaugural flight to Davao with an elegant VIP Corporate dinner attended by the city's most influential VIPs held at the Marco Polo Hotel on 19 June 2019.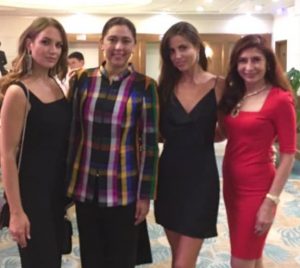 The evening was hosted by Qatar Airways Senior Vice President Asia Pacific Mr. Marwan Koleilat, who welcomed VIP guests, including the Ambassador of the State of Qatar to Philippines, H.E. Ali bin Ibrahim Ahmad Al-Malki, the Ambassador of the Philippines to the State of Qatar, H.E. Mr. Alan Timbayan and the Davao International Airport Director Engr. Rex A. Obcena.
Qatar Airways Senior Vice President Asia Pacific, Mr. Marwan Koleilat said: "I am very pleased to be here tonight to celebrate the launch of our new direct service from Davao. The Philippines is an important destination for us, with 50 weekly passenger flights to and from Qatar and we are delighted to now be able to connect travellers directly to Davao, one of the busiest in the Philippines. We are confident that leisure travellers will find much to enjoy in this charming city."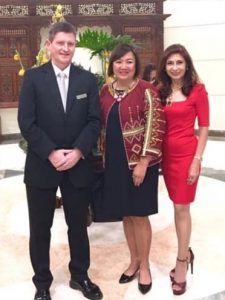 Flights to Davao are operated by the Boeing B787 Dreamliner, with 22 seats in Business Class and 232 seats in Economy Class. Passengers will be able to enjoy the airline's superior entertainment system Oryx One offering passengers a wide variety of entertainment options.
Qatar Airways currently operates a modern fleet of more than 250 aircraft via its hub, Hamad International Airport (HIA) to more than 160 destinations worldwide.
The Philippines is an important air freight market for Qatar Airways, with the carrier's cargo arm offering a weekly capacity of 350 tonnes each way on the Doha-Manila-Doha route and 70 tonnes on the Doha-Clark-Doha route. With the introduction of flights from Doha to Davao on the Doha-Clark-Davao-Doha route effective 18 June, exporters in Davao are offered a direct connection to destinations in Europe, the Middle East and the Americas via Doha.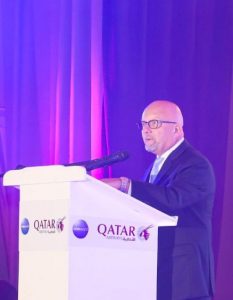 A multiple-award-winning airline, Qatar Airways was named 'World's Best Business Class' by the 2018 World Airline Awards, managed by international air transport rating organization Skytrax. It was also named 'Best Business Class Seat', 'Best Airline in the Middle East', and 'World's Best First Class Airline Lounge'.
In addition to its service to Davao, Qatar Airways has launched exciting new destinations recently, including Mombasa, Kenya; Izmir, Turkey, and Malta to name just a few. The airline will add a number of new destinations to its extensive route network in the second half of 2019, including Lisbon, Portugal; Mogadishu, Somalia and Langkawi, Malaysia (Photo credits – Pearl Peralta – Maclang/DOT XI).