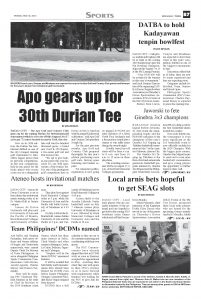 Local arnis players who are currently members of the national pool are hopeful to get slots in the coming 2019 Southeast Asian Games which reels off this December in Manila.
Mario Palazuelo, chief instructor of the Kapatiran Doble Elise Davao who served as one of the guests on Thursday's Davao Sportswriters Association (DSA) Forum at the SM City Davao, presented three local arnis players who are bound for the upcoming Games namely Jezebel S. Morcillo, Adelfa A. Sagne and Glennon Jhon N. Malisa.
"All three are training for the coming SEA Games for the past months. Unfortunately, they are training here in Davao due to unavailability of a billeting area in Manila. The billeting area are still under renovation and probably they will be in Manila in the third week of this month," Palazuelo said.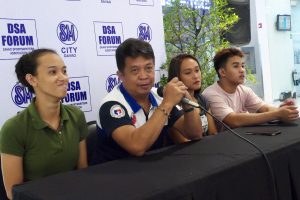 "We are training hard for this SEA Games and hopefully we will get a slot to play. As for our coach Palazuelo, we are still 85 percent ready," said the 23 years-old Sagne.