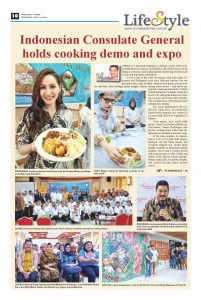 There is a universal language to sharing a meal. There may be differences in customs, nevertheless, all cultures have certain things in common, such as playing host and serving food in social events and important celebrations.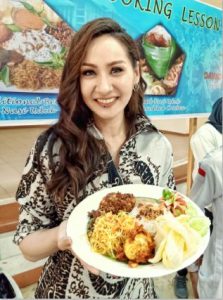 "Food is one of the ways we interact with each other. Indonesia and Philippines may have different cuisines but our proximity also made us share common food items, even in how we call them, like kambing, gulay, nangka, durian, among many others," said newly appointed consul general Dicky Fabrian of the Indonesian Consulate General in Davao City during the Indonesia Cooking Lessons and Demo last Monday, July 2 at the House of Indonesia in Juna Subdivision, Matina.
The event highlighted the traditional Uduk Rice, an Indonesian Betawi-style steamed rice cooked in coconut milk dish that originated in Jakarta.
"Nasi means 'rice' while uduk means 'mixed' in Betawi (Jakarta native) dialect," shares Chef Bagus, who led the cooking demo with Lydia Sahabaeng, the consulate's in-house cook.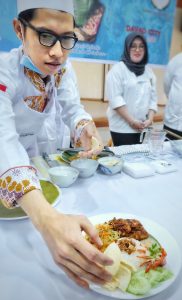 As the name implies, its ingredients is a mix of coconut milk, ginger, galangal, red and white onions, and of course, fragrant rice – mostly those readily available in Indonesian public markets. Nasi Uduk is usually served with tempeh (type or tofu), balado egg (telur), fried chicken (ayam goreng), bihun (vermicelli), cucumber, kropek, and sambal kacang (spicy peanut sauce).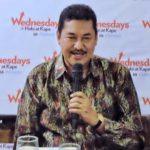 "We are continually doing such activity to introduce and to further promote our cuisine to our Filipino brothers and sisters,'" said Consul General Fabrian.
The consulate also wants to capitalize on the activity as a step to enter the Philippine market, especially in Mindanao.
To further bolster this endeavor, the office of the Indonesian Consulate General in Davao City will be holding their annual Tourism, Food and Travel Expo on July 12 to 14 at SM Lanang Premier.
"We are expecting the participation of business delegates and government officials from Bitung City and North Sulawesi to strengthen their trade network in Davao and Mindanao," he added.
The expo will showcase popular Indonesian consumer goods manufacturers with products ranging from coffee, snack food, instant noodles, chocolate and herbal drinks, and food supplements, along with their top tourist destinations, such as Bali, Jakarta, Surabaya, and Lombok, to be presented by the Ministry of Tourism of the Republic of Indonesia, and Bitung City, to be presented by its tourism office. Indonesia songs and dances will also be presented during the 3-day expo.