The Indonesian Consulate General is including tourism in its third trade and tourism exposition aimed at strengthening its linkages with the country.
The Wonderful Indonesia: Tourism, Food & Trade Expo 2019, will be held on July 12 – 14 at the SM Lanang Premier.
"For tourism, it will be the first time for us to organize so for this year we are conducting an integrated promotion activity, we call it Wonderful Indonesia: Tourism, Food and Trade Expo. In this expo we invited the Ministry of Tourism of Jakarta to participate," said Indonesian Consul Endah Yuliarte said during the Wednesdays Habi & Kape media conference at Abreeza.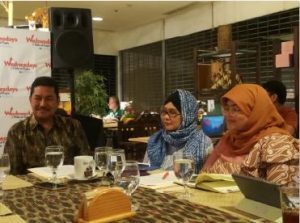 During the expo, Ministry of Tourism will be offering tour packages to Indonesia's top destinations like Bali, Jakarta, Surabaya, Lombok and many more for the Filipino travelers through their foreign and local travel and tour operators. Moreover, the tourism office of Bitung City will also promote its local destinations highlighting "its most stunning tropical ocean life and the habitat of the rare tiny tarsiers."
Yuliarte said there will be six travel agencies participating in the expo, three from Indonesia, three from Davao.
Meanwhile, for the food and trade sector, there will be 12 companies participating offering consumer goods manufactured by Indonesian companies. The country's delicacies are also made available during the expo.
Consul General Dicky Fabrian said the event will also have a business matching components as Indonesian investors are looking for partners for their planned expansion in the city.
"The Indonesian investors want to take advantage of our relationship with your local businesses as we hope there will also be Davao investors who will explore opportunities in Indonesian business areas," said Fabrian.