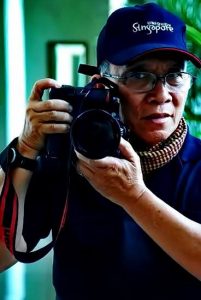 Photojournalist  Renato "Rene" B. Lumawag passed away in a hospital here at 6:23 p.m. Monday. He was 74.
"Tatay has gone home to his Savior where there is no more night, nor more pain," Tyron, Lumawag's youngest son, wrote a chat group to announce his father's death.
Lumawag succumbed to acute respiratory failure after a long bout with prostate cancer. He was in the intensive care unit of the Davao Doctors Hospital from June 12 and was moved to a private room on June 27 where he spent his last days in the company of his family and friends.
Lumawag chronicled major events in Mindanao since he started photojournalism in 1985 when a major landslide occurred in the then gold rush in Diwalwal, Monkayo in Davao del Norte (now part of Compostela Valley). He is the lone photographer who chronicled Rodrigo Roa Duterte's rise in the political arena from OIC Vice Mayor in 1986 to Mayor from 1988 to 1998, Congressman from 2001 to 2010, Vice Mayor from 2010 and 2013 and Mayor from 2013 to 2016. He joined the Presidential Photographers Division and continued to photograph Duterte, this time as President.
He is survived by wife Minerva Rodriguez and children Renee Belle Bryant, Melanie, April John and Tyrone. (His second child and eldest son, Gene Boyd, was killed in Jolo, Sulu on November 12, 2004 while returning to the hotel from shooting the sunset at the pier.)
Lumawag's profile during his "Remember When" photo exhibit in 2009 had more details about his life as a photojournalist:
Born in Panay Island, on December 22, 1944, Lumawag started earning money from classmates and friends who would ask him to draw school projects and make cards for special occasions. To improve his craft, Rene would go out on weekends to participate in on-the-spot painting of sceneries or sketching with the use of pencil or pen and ink.
He bought his first camera in 1979 – a Minolta 100X, single lens reflex full manual, with a 45 mm fixed lens, "to record my children as they grow." Much later, he got a 110 format camera and a 135 Minolta 7SII rangefinder.
But his first photography teacher was "the manual of that P1,800 SLR with a Rokkor lens 45mm fixed lens, f/2.0." Tatang Rene burned many candles to fully understand basic camera operations.
Later, he stopped participating in on-the-spot painting contests on weekends. Instead, he would bring his kids to good locations such as riverbanks and seashores to shoot the sunrise and sunset.
Before venturing into photojournalism, Rene, then a broadcaster at UMBN, was documenting weddings and birthday parties. Before that, he was a radio deejay, a caminero, and even had a stint as embalmer.
But in the summer of 1985, a tragic landslide struck the gold rush site in Diwalwal in Monkayo, then part of Davao del Norte, burying hundreds of miners and workers in the allied industries.
Willie Vicoy, the veteran photojournalist from Reuters who spent years covering the war in Vietnam, requested him to cover.
That Diwalwal tragedy, captured on film by Rene, was his first stint in photojournalism. It did not only give him national recognition, it also gave him his first international recognition as a photojournalist, as his photographs appeared on front pages of the world's newspapers, his name properly credited by Reuters.
That same year, Rene joined the San Pedro Express for about two months, just as the weekly business paper shifted to daily. From there he joined Ang Peryodiko Dabaw until it became Sun.Star Davao about six years later.
Rene was a staff photographer until he retired in August 2008. He served as photo correspondent of the Philippine Daily Inquirer for a couple of years in the 1990s but passed it on in the latter part of the 1990s to his son, Gene Boyd.
Two months after his retirement from Sun.Star Davao, he signed a contract with Mindanao Times, Mindanao's oldest community paper, also based in Davao City, as its lifestyle contributor and photo consultant.