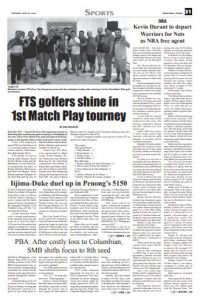 Davao City – Team FTS (Fore The Squadron) leaned on their long drives and steady putts to emerge as champions at the close of the First Match Play golf tournament held Saturday at the Rancho Palos Verdes Golf and Country Club.
Team FTS outplayed team FTB (Fore The Boys) via a 5-4 scoring output on three events namely, Individual, Best Ball and the Hi/Lo.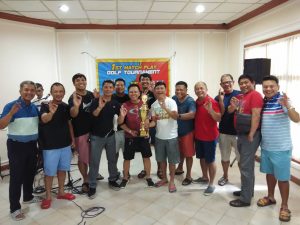 FTS parade its line-up having Addy Briones, Brian Davila, Dennis Capa and Jan Barraquias for the Individual competition, the pairs of Ronny and Jules, Bob Lacaya and Rene De Manuel, Vince Batican and Jake Obligado for the Best Ball and the duo of Marlon Tabanao and Al Batao, Bobby Mamaril and Joemari Amador for the Hi/Lo.
Team Fore The Boys were represented by Mark Lopez, Ernest Damaso, Reinz Yamyamin and Richard Bad-ang for the Individual competition, the tandem of Pitjun Batu and Dhats Maulana, Boyet Sonico and Omie Fuentes and Chito Bogayong along with Jong Agton for the Best Ball. The pairs of Bates Bulecer and Pao Angeles and Christaian Gabucan and Joey Maniquis played for the Hi/Lo.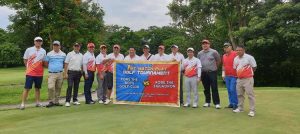 A special designed trophies were given to team FTS in special rites after the games.
The results:
Individual Players
1. Addy Briones – .5
2. Brian Davila – 0
3. Dennis Capa – .5
4. Jan Barraquias – 1
Best Ball team
1. Ronnie Magsico & Jules Domingo – 0
2. Bob Lacaya & Rene De Manuel – 1
3. Vince Batucan & Jake Obligado -0
Hi/Lo
1. Marlon Tabanao & AL Batao- 1
2. Bobby Mamaril & Joemari Amador – 1