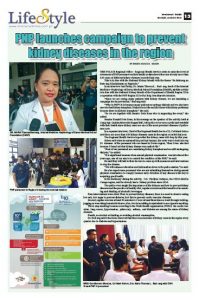 The Police Regional Office – Regional Health Service seeks to raise the level of awareness of PNP personnel on their health as data shows there are already more than 130 cases of different kidney diseases recorded last year.
This is in line with the National Kidney Month with the theme "Sa Malusog na Bato ang Kinabukasan ay Sigurado."
In an interview last Friday, Dr. Maria Theresa L. Bad- ang, head of the Internal Medicine- Nephrology of Davao Medical School Foundation (DMSF), said the activity is in line with the National Kidney Month of the Department of Health Region XI in cooperation with the PNP Region XI led by Brig Gen Marcelo Morales.
"Since we are seeing many patients with kidney disease, we are launching a campaign for its prevention," Bad-ang said.
"Why in PNP? It is because many policemen undergo dialysis and we also have one who had kidney transplant. Dialysis is not the end (for those with kidney problems) because there is (kidney) transplant," she said.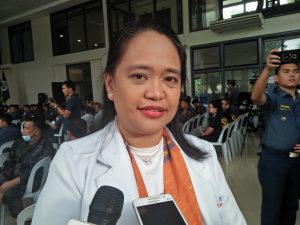 "So we are together with Senator Dela Rosa who is supporting the event," she added.
Senator Ronald Dela Rosa, in his message as the speaker of the activity held at Camp Sgt. Quintin Merecido Bagani Hall, told police to be extra careful and watchful with their health since kidney cases are among the most prevalent diseases of policemen now.
In a separate interview, Chief of the Regional Health Service XI, Col Mark Solero said there are more than 130 kidney diseases cases in the region recorded last year.
The Regional Health Service hopes that the kidney cases will drop by this year.
Solero said when he assumed his post last January, the order was to look into top 10 diseases of the personnel who are based in Davao region, "then I was shocked because I found out that kidney disease was ranked 5th."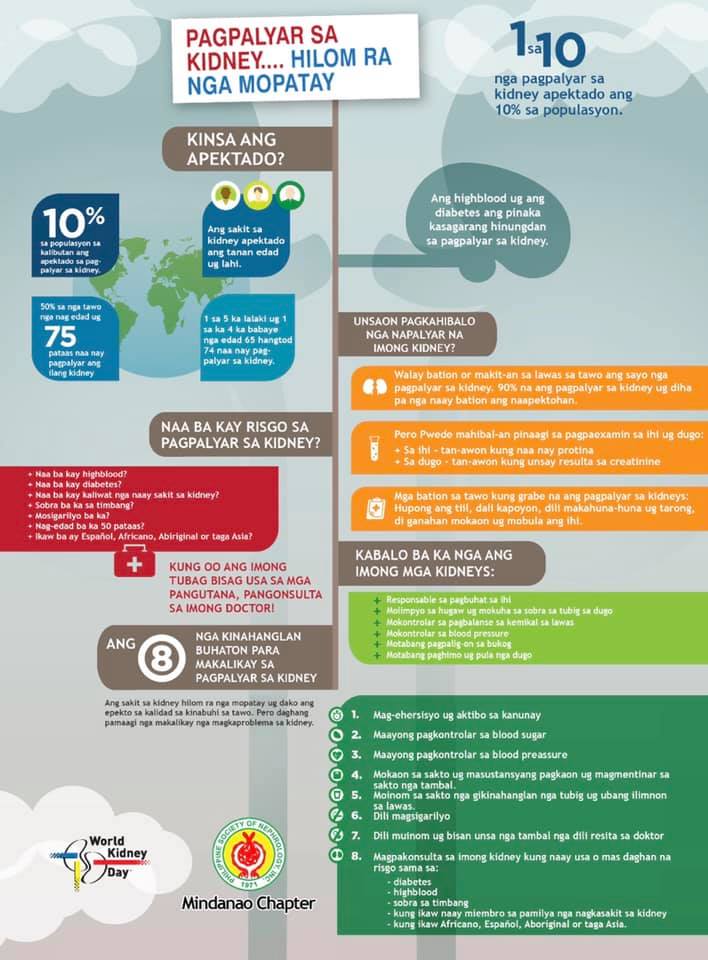 "Four of our personnel are considering kidney transplant and are still undergoing dialysis," he added.
"It is significant because when annual physical examination was introduced five years ago, one of our aim is to control the condition of the PNP," he said.
He said they will talk to their doctors to come up with measures and interventions to stop the disease.
"We will enhance education and information down to the police station," he said.
He also urged some personnel who are not submitting themselves during annual physical examination to comply because early detection of any disease is the key to acquiring good health.
In his testimony during the activity, Col. Cholijun Caduyac, the CIDG chief in Caraga region, said he already had a kidney problem since 2016.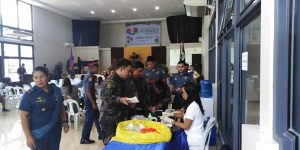 The police were taught the importance of the kidneys and how to prevent kidney diseases and the practice of healthy diet, regular exercise and the benefits of no smoking and drinking of alcoholic beverages.
Four interventions were cited: First, to prevent kidney diseases, there is a need to observe eating low salt, low sugar to prevent diabetes, low fats to prevent cardio vascular diseases.
Second, regular exercise at least 30 minutes to 1 hour at least three times a week through walking, jogging or even doing household chores. Also, two hours sitting is equivalent to one cigarette smoking.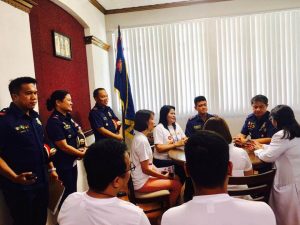 Third, stop smoking because according to the World health organization (WHO) the cardio vascular, lung cancer, hypertension, pulmorary, asthma, and diabetes are among the cause of kidney diseases.
Fourth, no alcohol or limiting or avoiding alcohol consumption.
Dr. Bad-ang said it has been observed that there is an increase of kidney cases in the region every quarter due to diabetes and hypertension.