"Obra Sa Paglaom," an art exhibit of female artists who are Persons Deprived of Liberty at Maa Jail,  was launched at Felcris Centrale last June 22, in partnership with the Bureau of Jail Management and Penology (BJMP), Tabularasa Art Group, together with Mindanao Times, in celebration of the Community Relations Service Month with the theme Magbantay, Mag-ugnay at Magmalasakit.
'Magbantay' is one of the Bureau's mandate of safekeeping PDLs. 'Mag-ugnay' is to create linkages and foster partnerships with the different sectors of the community in giving rehabilitation program for the PDL.
"Magmamalasakit' is to provide them with holistic development programs like health care, education, skills and livelihood training, religious and paralegal services while under the custody of BJMP, in preparation for their mainstreaming to the society. In the context of 'Malasakit,' the BJMP personnel and PDL also give out services for the needy, less fortunate as well as do their fair share for the environment.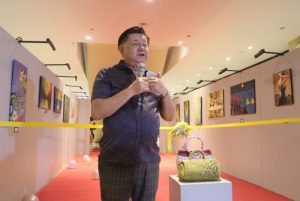 The 'Obra sa Paglaom' project is a clear manifestation of the PDL's various talents and skills with high hopes for their physical freedom and economic independence. PDL's wholeheartedly put their time and effort to create wonderful artworks, most of which were sold within the hour..
Present in the event were 1st District Councilor Pilar Braga, who gave her opening remarks and was spotted buying three of the artworks from the event. Dinky Munda Jr., president of TABULA RASA Art Group, who also gave his speech and commendation towards the PDL's works.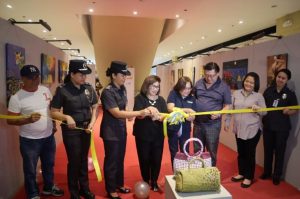 Lawyer Susan Cariaga, President of Thompson Christian School and Vice President of College Behind Bars. Amalia Cabusao, Editor-in-chief of Mindanao Times, Manuel Escuadro, President of Davao Archdiocesan Prison Ministry (DAPMIN). and JINSP Ellen Rose Saragena, Chief CRS section, female jail section.
Magallanes Elementary School visual artists shared their tell talent in singing while three recently released "bakasyonistas" led by Soleil Arriola rendered a beautiful originally composed song.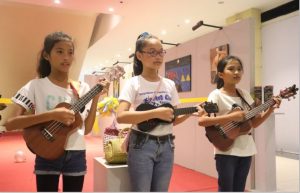 The exhibit will run up to July 4, 2019 at Felcris Centrale.