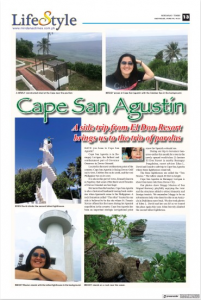 A side trip from El Don Resort brings us to the trio of parolas
Have you been to Cape San Agustin?
Cape San Agustin is in Barangay Lavigan, the farthest and southernmost part of Governor Generoso in Davao Oriental.
Located in the most southeastern point of the country, Cape San Agustin is facing Davao Gulf on its west, Celebes Sea on its south and the vast Philippine Sea on its east.
It is also in this part of the town, formerly known as Sigaboy, that some of the finest secret beaches of Davao Oriental are best kept.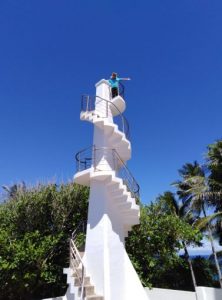 But more than the beaches, Cape San Agustin is also historical landmark tracing back centuries when Spaniards came to the Philippines. A rock formation called "The Altar" located in one side is believed to be the site where St. Francis Xavier offered his first mass during his Spanish expedition in the country.
Cape San Agustin has been an important strategic navigational point since the Spanish colonial era.
During our trip to Governor Generoso earlier this month for a tour in the newly opened world-class 21-hectare El Don Resort in nearby Barangay Pungdaitan, resort advisor Eden L. David and I made a side trip to Cape San Agustin where three lighthouses stand tall.
The three lighthouses are called the "Tres Marias." The tallest stands 80 feet in height.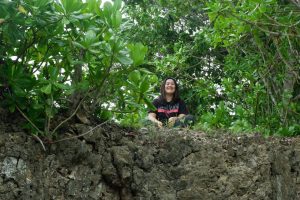 Cape San Agustin in Barangay Lavigan is about four-hour ride from Davao City.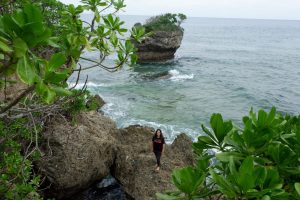 Our photos show Meggy Macion of San Miguel Brewery playfully enjoying the view and the structures added to attract domestic and foreign tourists. We remember Meggy to be an adventurous lady who dared to ride on an Anicycle in Bukidnon years back. We also took photos of Eden L. David and her son BJ as we toured the place again this year. Eden bravely climbed the second tallest lighthouse.