Argentinian short-story writer and poet Jorge Luis Borges once said that he had "always imagined paradise will be a kind of library."
This was probably what 15 year old Lorenzo "Enzo" Lascano Puentespina, a grade 10 student of Philippine Science High School Southern Mindanao Campus, had in mind when he opened Lib of Positivity, a humble community library that he set up in Barangay Wilfredo Aquino, Agdao District.
Lib is short for Library Introducing good Behavior.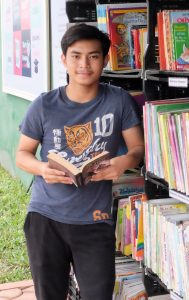 The idea developed one auspicious evening during a family dinner when they thought of modest ways on how they can help improve their community.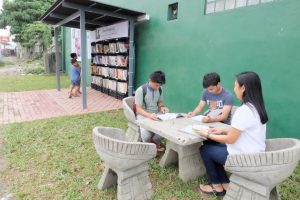 "Then our conversation sidetracked on how we can unload the books that we have accumulated over the years inside our house," Enzo said.
This gave the young man the idea of establishing a community library. Enzo, a voracious reader since he was kindergarten, enjoys fiction and story books.
"Before we started building the library outside our compound, my dad took me around the neighborhood, and shared the idea with barangay captain Gregorio Obial Jr. Thankfully, he was as enthusiastic as we were," he shared.
Enzo also received the same optimistic reception when he discussed it with the people behind Christian Elementary School and their barangay day care center, both located adjacent to their residence.
After the barangay greenlit his project, Enzo promptly began construction utilizing used crates as shelves and plastic shower curtains to secure the area from the elements by night.
"I started sharing the information with my relatives and friends, who later donated unused books. While arranging the books at the site, strangers approached me and also offered to donate", he revealed.
With more than 200 books, Enzo's Lib of Positivity finally opened last June 18.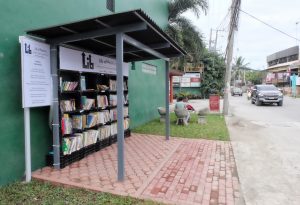 The library has text books for elementary and high school; puzzle, maze, coloring, drawing and other activity books in the assorted books section; storybooks for kids and adults; magazines; and reference books – all for free of charge. Lib of Positivity is open 24/7.
"No need to ask permission. You can take any book you want, hoping that you'll bring them back when you're done, and return them in their proper places. We want to teach the values of honesty and responsibility, and we're placing our 100% trust in them," said Enzo.
Since Lib of Positivity opened, Enzo has observed that most students visit his library after classes in the afternoon. Parents also take quick stopovers before picking up their children from school.
"Sometimes at night, I see people using their phones as flashlights just to find books that they intend to read. One kid once told me he doesn't need to waste money on internet cafes anymore since he can now use the reference books for school assignments," Enzo happily shared.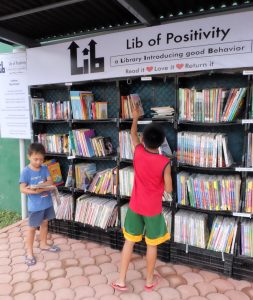 A grandmother also approached Enzo and expressed her glee that she's able to bring story books home for her grandchildren to read. This made Enzo even more hopeful that people can also get inspiration from his experience.
"With Lib of Positivity, I hope I am able to teach people to love books. I also want to encourage others to build their own library in their own communities. Even with such simple initiatives, I know we can bring forth change," he quipped.
Those who want to donate books can send Enzo a message through their Facebook page Lib of Positivity Davao.