Dengue cases in the city have increased but the death toll decreased in the first semester of the year compared to the previous year.
Figure from the City Health Office (CHO) revealed that five patients out of 937 confirmed dengue cases died in the first six months of the year. Last year, there was 665 cases but eight patients died.
Most of the casualties this year were aged 5-9 years old except for the 84-year-old resident of SIR, Barangay 76-A, Talomo District.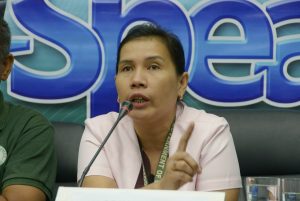 The four other casualties were residents of Barangay Lubogan in Toril District, Barangay Bato in Toril District, Brgy. Bunawan Proper in Bunawan District, and Barangay Talomo Proper in Talomo District.
Melodina Babante, a pest control worker of the CHO, said there are 12 dengue hotspot areas in the city.
These include Barangay 19-B in Poblacion District and Barangays 76-A, Matina Crossing, Catalunan Grande, and Talomo Proper in Talomo District (in the first district); Barangays Cabantian and Buhangin Proper in Buhangin District and Barangays Wilfredo Aquino and Lapu-lapu in Agdao District (in the second district); and the districts of Marilog, Calinan, and Toril (in the third district).
"These hotspot areas are usually large barangays with congested households, so we can consider that the congestion may be a factor," Babante said. Barangay 19-B, the only downtown barangay in the hotspot, is considered as the biggest barangay in the term of land area in the Poblacion District.
Lying on the riverbank of Davao River up to J.P. Laurel Avenue in Bajada, it is also one of the busiest barangays in the city.
Some of the hotspot areas, according to Babante, are those without proper water supply.
"(In) some areas with poor water supply, including Cabantian, they have to store water in large containers like drums," she added.
Babante pointed climate change as one of the causes in the continued dengue cases.
"We could no longer predict the climate," Babante said, adding that rains would even hit the city even on summer season.
"So… we have to work more frequently to prepare for the rainy seasons," she said.
Babante also said that the attitude of the Davaoenos, despite the effort of the government, can be linked to the increasing number of dengue cases.
"Most of the attitude of our residents are very hard to discipline. Just like this weekend, we (conducted) a clean-up drive in the three puroks of Brgy. 76-A. Instead of helping the Ancillary Service Unit, CENRO and the CHO, they just watched," she said.
Babante called on the Davaoenos to perform the 4S: Search and destroy potential mosquito breeding areas, Seek early medical consultation, Self protection measures, and Support indoor and outdoor spraying and fogging.