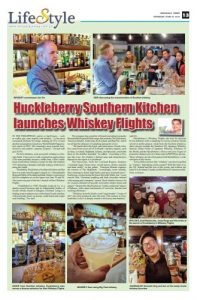 In the Philippines, spirits or hard liquor – such as vodka, gin, rum, tequila, and whiskey – is the most consumed alcoholic beverage, making up 72% of total alcohol consumption, based on a World Health Organization report in 2014. The seemingly more popular beer, however, only ranked – surprise, surprise! – second with just 26.9%.
For beer drinkers, such as myself, whiskey is a foreign drink. I have never really acquired an appreciation of its taste probably because, unlike beer, I don't really know much about whiskey except for that old whiskey TVC featuring a skimpily clad lady riding a white horse along the beach.
Thankfully, Huckleberry Southern Kitchen and Bar flew in a team from Douglas Laing & Co.'s Remarkable Regional Malts of Scotland and had whiskey connoisseur Jim Orr enlighten us on this liquor last June 25 and 26. The event was part of the bar's launch of their Whiskey Flights.
"Established in 1948, Douglas Laing & Co. is a family-owned business and an independent bottler of Scotch whisky based in Glasgow, Scotland. Laing is a leading creator and purveyor of the finest Scotch whiskey with particular focus on artisan, small batch and single cask bottling," Orr said.
The company has a number of brands including its popular Remarkable Regional Malts range that includes The Epicurean, Timorous Beastie, Scallywag, Rock Island, and Big Peat, which we all had the pleasure of sampling during the event.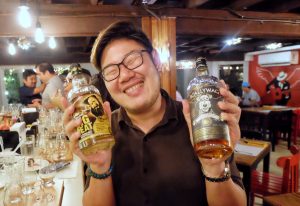 "We hand-select the finest, and often rarest, Scotch whiskey casks from across all of Scotland's whiskey regions, such as Islay, Lowland, Highland, Islands, and Speyside, and bottle them as the distiller intended," he added. According to Orr, just like wine, the whiskey's distinct taste and characteristics depend on the region it is produced.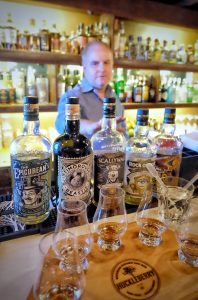 The Epicurean, from the Lowland Region, displays "crunched sugar, burnt citrus, mixed spices, thyme, peaches and hard candy" on the palate. Timorous Beastie captures the essence of The Highlands, "overridingly sweet initially, then warming to floral, light barley and spicy honeyed tones." Scallywag, created using the finest Speyside Malts, has "sweet stewed fruit, Christmas pudding and dark chocolate infused with nutmeg and cinnamon" punch. Rock Island is known for its "oceanic character of sea-salt, sweet peat, smoke, honey and pepper." Meanwhile, Big Peat has an "earthy, medicinal" degree of balance, with a taste reminiscent of "sweet tar, beaches and smoking chimneys."
"Whiskey, from the Gaelic word "uisge beathe" ("water of life") has been produced since the early 15th century in Scotland that is why it is deeply rooted in its history and tradition," said Orr.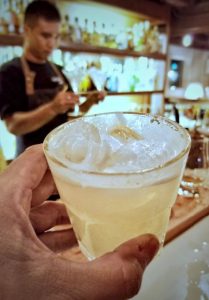 Huckleberry's Whiskey Flights can now be enjoyed by bar habitués with a sampling of various whiskey brands served in snifter glasses. Aside from the Scottish whiskeys, other choices include the Southern US, Japanese Whiskey Special, Nikka Father of Japanese Whiskey, Whiskeys of the World, and the Huckleberry's Choice sets (4 to 5 types of premium whiskeys per set). Rates start at PhP700 per person. These whiskeys are also best paired with Huckleberry's wide selection of bar chows.
Trivia: Did you know that "whiskey" can also be spelled as "whisky," depending on the country? With the letter E in the US, Ireland and the rest of the world, and without the letter E in Scotland, Canada, and the British Commonwealth. Now, we know.