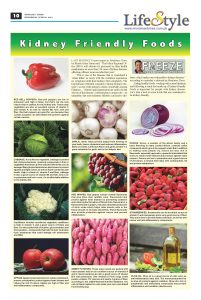 Last Monday's news report in Mindanao Times by Rhoda Grace Saron said, "The Police Regional Office (PRO) will educate its personnel on their health maintenance as more than 130 cases of kidney diseases affecting officers were recorded last year."
"This is one of the diseases that is considered a 'silent killer' as many with the condition experience no symptoms until their kidneys fail completely. The Department of Health considers Chronic Kidney Disease V as one of the primary causes of mortality among Filipinos… Obesity and hypertension are said to be the drivers of this disease. Lifestyle plays a major role – an unhealthy diet and sedentary lifestyle can lead to diabetes, which makes one vulnerable to kidney diseases," according to yesterday's editorial in Mindanao Times.
Eating healthy foods, working with a renal dietitian and following a renal diet made up of kidney-friendly foods is important for people with kidney disease. Let's take a look at some foods that are considered to be kidney-friendly.