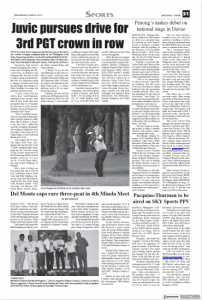 Davao City – Del Monte Golf and Country Club performed a milestone act Saturday by scoring a rare three-peat in the Men's Regular division of the 4th Mindanao Meet golf played at the Rancho Palos Verdes Golf and Country Club.
Del Monte Golf secured its third straight gross title by scoring 267 points to edged closest foe Pueblo de Oro which settled for first runner-up honors with 245 while team Apo Golf Regular 1 placed third with 234.
The win was their third straight after winning it in 2017 in Cagayan de Oro and at their hometurf in Manolo Fortich, in 2018.
Del Monte's charge in this year's four-day tournament saw scores from Julius Langamin, Boboy Jaraula, Juvencio Lusterio, Reno Langgamin, Crispin Aparilla and Pepedz De Pedro.
Team Brittannika Regular B took the Division B gross title with a 222 points leaving past Camp Evangelista (204) and EAAB Regular (197) at first and second runners-up, respectively while Rancho Palos Verdes-FTS RDL took the Division C crown with 144 points on top off MSU Marawi-2 (83) and MSU Marawi-1 (63).
In the Seniors division, Apo Golf Agway Seniors took the Division 1 gross crown with 381 points behind efforts from Teody Barnuevo, Quintin Singson, Alrey Ceniza, Alimar Etrone, Larry Pasquil and Monchit Mackay. They cruised past Rancho Palos Verdes Seniors-1 (348) and Del Monte Seniors-A (339)
Rancho Palos Verdes Seniors-2 topped the Division 2 with 341 points followed by Brittannikka Seniors (336) and Apo Seniors-A (223) while Dole Kalsangi Seniors had 297 for the Division 3 crown over MSU Marawi Seniors-1 (278) and MSU Marawi Seniors-2 (223).
Pueblo de Oro Golf and Country Club will play host to the tournament's fifth edition set next year.