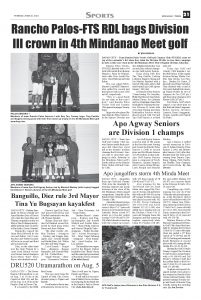 Davao City – Team Rancho Palos Verdes Golf and Country Club-FTS RDL came on top of the contender's list when they claim the Division III title to close their campaign in style as this year's host in the 4th Mindanao Meet Men's Regular division, Saturday.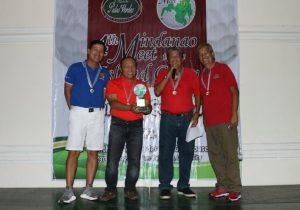 Rancho Palos Verdes-FTS RDL finished with a 144 total with rounds from Ronnie Magsico, Rene de Manuel, Jerico dela Cruz, Arnold Navales, Vince Batucan and John Rabat.
The cast edged MSU-Marawi-2 and MSU Marawi-1 who settled for second and third places with scores of 83 and 63, respectively.
"This is a good finish for our team as this year's host," said Rancho Palos Verdes Golf and Country Club general manager Tommy Inigo.
Inigo who also played for team Rancho Palos Seniors-1 in the Seniors Division was also delighted when they won second place behind champion Apo Golf Agway Seniors.
Inigo along with Boy Tan, Ting Castillo, Ludwig Ledesma, Eugene Chiong and Joe Marfori finished with a total of 368 points only to fall short behind Apo Golf Agway Seniors' 381 total.
Its Rancho Palos Seniors 2 team having Vic Gonzales, Philip Hazelwood, Sam Satoh, Sakurai Tamio, Joe Lafuente and Joe Daigdigan shared the limelight by winning the Seniors Division II crown with 341 points leaving past team Brittanikka Seniors which placed second with 336 and Apo Golf Seniors A at third with 223.
Team Apo Golf and Country Club Regular-1 settled third place in the regular division having Martin Castillo, Jing Gavino, Leo Fusilero , Denden De Castro, JJ Saavedra and Rene Salvador. They finished with a total of 234 points behind first runner-up winner Pueblo de Oro of Cagayan de Oro (245 pts.) and three-time champion Del Monte Golf (267 pts.).
Del Monte Golf which capped a rare three-peat on that feat had Julius Langamin, Boboy Jaraula, Juvencio Lusterio, Reno Langgamin, Crispin Aparilla and Pepedz De Pedro.