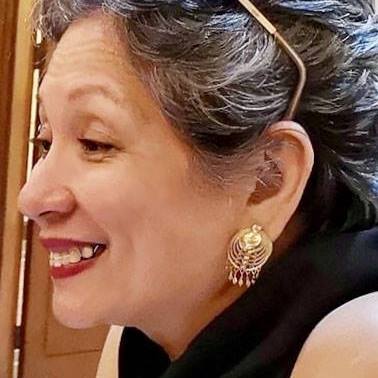 It was a few years back when my dear cousin, Marina Suarez Magallanes, requested me to have lunch with her fellow Assumptionistas who were visiting Davao. The lunch date was at Ah Fat III and the Assumptionistas' reunion in Davao was planned with tender and loving care by a Rita Bustamante. It just so happened that this Negrense, Rita Bustamante, is the elder sister of my La Salle batchmate named Drambuie Bustamante whom I haven't seen in decades since we graduated from high school. So I was truly interested in meeting the group. And boy did I enjoy my encounter with the Ilongga Assumptionistas. One of them happened to be a close Lacson relative I met for the first time; and is married to my former La Salle high school classmate as well.
Since that first meeting with Rita Bustamante, I've had the opportunity to see some of her artworks displayed at Felcris Centrale and at the Marco Polo Davao. Just recently, she launched her 7th Solo Exhibition called "Chicks" at the Art Portal, a Gallery for Contemporary Art, located at the Paseo de Legaspi Building along Pelayo Street, Davao City. I apologize, dear Rita, for missing the opening night.
Although born and bred in Bacolod City, Rita is now a certified happy and contented Davaoena; and a true Duterte loyalist at that. Davao has so fascinated the quite vocal and feisty artiste that she has since relocated here (along with her daughter who is married to a Davaoeno) and progressed along with the sort of renaissance in the Davao arts scene.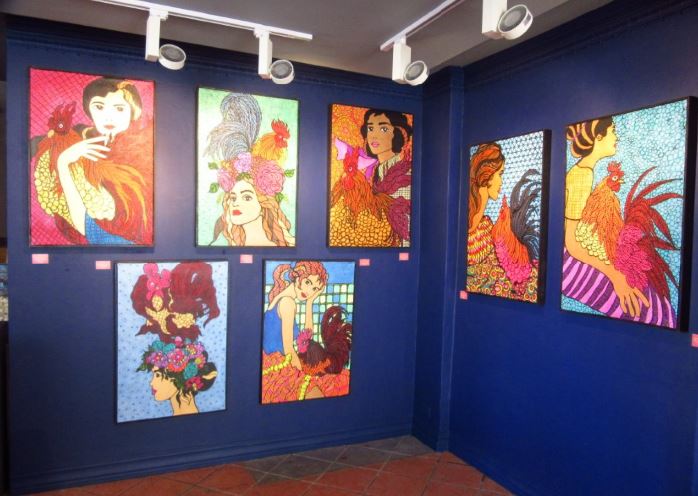 Rita graduated with a Bachelor of Arts in Interior Design from Assumption College-San Lorenzo (Makati City). She became a professor in her alma mater for over two decades. She taught courses in Art Production, Research, Public Relations, and Visual Communication, to mention some. She also worked in an advertising agency and a graphic design studio. Rita retired from her teaching profession in 2015; and from thereon focused on producing her own brand of art. Her distinctive art is all about depicting various women from all walks of life that she meets on a daily basis while documenting their beauty and tenacity as empowered women of this period in Philippine history.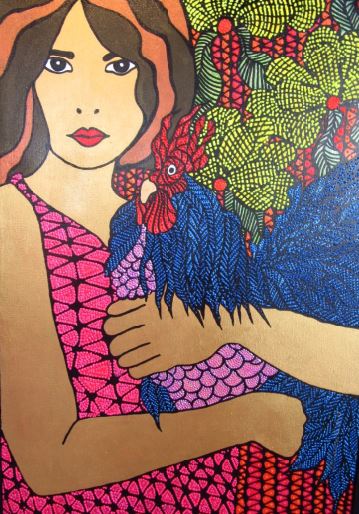 Her present portraits of such beautiful women with equally handsome roosters (or is it fighting cocks?), however, only reminds me of the La Belle Epoque portraits of the 19th century interpreted in contemporary pop art style by Rita Bustamante. And Rita's women, perhaps subconsciously done by the artiste, depict the very women of Sugarlandia's landed elite to my eyes. Not at all like the women you'd meet in Bangkerohan handling roosters. Ahhh, those Negrense Kahirup ladies of yesteryears of a genteel, languorous lifestyle steeped in culture, tradition, elegance and opulence, which surely, the ladies in Spanish mestiza Rita Bustamante's life belong to.
Those were the women who attended the exclusive Kahirup Balls wearing gowns made by well-known Manila couturiers including those imported from Madrid and Paris. The well made up, coiffed and perfumed women enhanced their outfits (including not less than a dozen haute couture changes in just one night to impress and outshine the others) with heirloom jewelry with diamonds the size of pebbles, puneta. Yes, much to the envy of Imelda who, in turn, made these ladies kowtow to her during her reign in the conjugal dictatorship. And just look at how Rita arranged those cocks to pose to complement her women of such boastful nature as if they're part of their passion for fashion. Or are they phallic symbols I could have misread? Indeed, it makes you wonder why Rita Bustamante chose roosters instead of the more regal peacock whose elegant feathers were the favorite of those Kahirup mighty women to use for their abanico.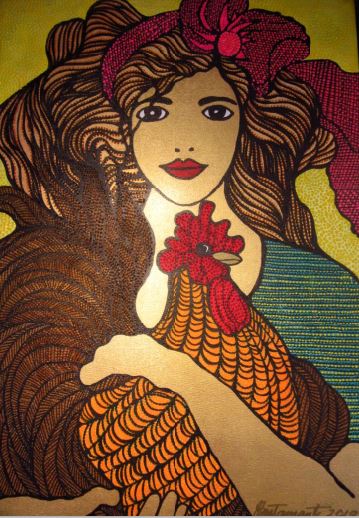 By the way, Rita Bustamante's family is a descendant of Spanish Governor-General Fernando Manuel de Bustilo Bustamante y Rueda of the Spanish colonial period of our country's history. Yes, the very same Bustamante who is immortalized in Filipino master painter Felix Resurrection Hidalgo's precious painting named "The Assassination of Governor Bustamante" which is exhibited at the National Art Gallery of the National Museum.
It's worthy of note that Rita Bustamante utilizes "pointilism" in her art. Pointilism is an exacting technique of painting in which small dots of varied colors are applied in patterns to form an image. The technique was developed by 19th century French artistes Georges Seurat and Paul Victor Jules Signac in 1866. Rita Bustamante's diligence in applying exacting colorful dots to create her fabulous portraits is truly remarkable. She must have had good practice during her Assumption days in "making tusok-tusok the fishballs."
Congratulations, palangga Rita Bustamante.