Dionne Warwick's 1964 ballad, "A House is not a Home," written by Burt Bacharach and Hal David, has the lyrics "A chair is still a chair, even when there's no one sittin' there…." The song kept playing in my mind while viewing EJ Pasia's furniture exhibition at SM Lanang Premier last June 7. The hardworking but very well-fed artiste, dressed in a signature Wilson Limon tribal cross-stitched sweat shirt, is truly a Jack-of-all-trades and mind you, a master of many. He is an architect, interior designer, restaurateur, and that evening, a picture of a proud furniture designer specializing on chairs.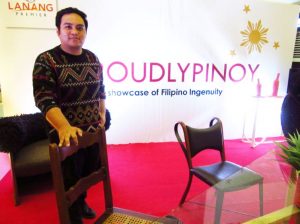 "A chair is obviously used for sitting. All chairs have the same function but they could differ from one another where it matters. When you're looking for your desired chair to purchase, you have to consider the back support, seating, width of the seat and armrests, height, stability and comfort to suit your needs," advised EJ Pasia as he added, "What's the use of having a chair that looks good and stylish but is not right for your use. You'll just end up having a bad back after using it for a few hours."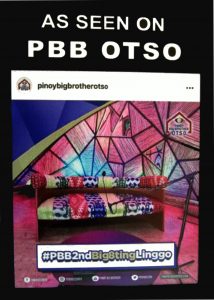 EJ Pasia's furniture concept this time is described as "Warning Signs" which could raise the eyebrows of those who know him to the high heavens. "It is a silly and sarcastic visual representation of objects and things that gives you an alarm to rethink your intentions or expectations in going through life. Also it's a humorous take on living with utmost precaution and yet, still having disappointing results in living out your existence. It is that exact feeling when your life is a mess but you still need to look good. It's like your world is hopelessly falling apart but you're still optimistic; and when there's no hope for you but you still believe in forever. It is like being in a state when your life is in a possible meltdown and you just ignore the warning signs and keep moving on.."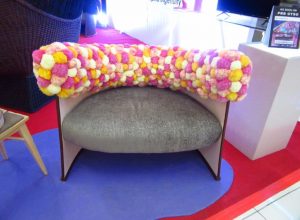 "Oh yes, our new collection is about toxic encounters, nuclear meltdowns or just ending relationships. It's moments that put you on the verge of loosing it but you try to find meaning, relevance and optimism by using humor, quirky anecdotes and silly imagery. Yes, elements that evoke new objects to its contextual forms. It's like saying what's the shape of power when applied to architectural form."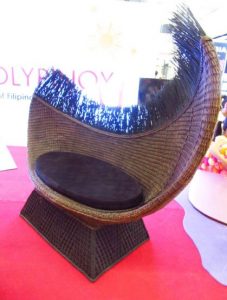 This guy, EJ Pasia, has turned philosophical somehow with all his "hugot lines;" and I thought he was either joking or worse, trying his very best to impress me. Or was it just a case of KSP (Kulang sa Pansin) which his close friends often accuse him of. But EJ Pasia's being profound this time just gave me a headache! I just had to sit down on one of his chairs. Oh my goodness, all his chairs have his signature prominently attached to them. That just added to my headache.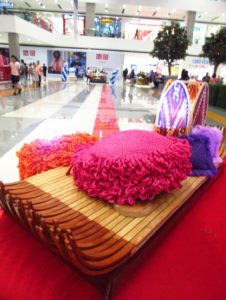 "Gusto mo ng Krispy Kreme and coffee, sir?" he asked me flashing that distinct smirk of his while I was trying to recover my equilibrium.