Another amazing exhibition I was able to catch this National Heritage month of May at the Ayala Museum in Makati City was Mark Lewis Lim Higgins' "Gold In Our Veins." The exhibition is a narration of a re-imagined antiquity through a series of portraits inspired by the ancient histories of Indochina, the East Indies, and the Philippine Archipelago. Together with the interesting and unique portraits done by Mark Lewis Lim Higgins are artistic objects from the Ayala Museum's remarkable collection handpicked by the artist himself to expand the exhibition's narrative. It was truly an unprecedented undertaking as the museum's artifacts, for the first time, was shown beyond their historical and cultural significance.
The consumate artist Mark Lewis Lim Higgins was born in the Philippines to an Anglo-Irish father and a Chinese-Flipino mother. Mark was educated in Toronto and New York. In years past, he would spend several months at a time painting in Rome, New York and Hong Kong. Upon his return to Manila, his career as a visual artist began to focus around Philippine history and design. For the past decade, Mark and his equally artistic sister Sandra have also served as co-directors of Slim's Fashion and Arts School which was founded in 1960 by their late mother, the fashion icon Salvacion Lim-Higgins. Salvacion Lim-Higgins of Slim's was one of the most progressive fashion designers of her generation of proper ladies who wore clothes that, according to the literary icon Carmen Guerrero-Nakpil, "were perpetually on display and subject to the rash judgements of the neighborhood."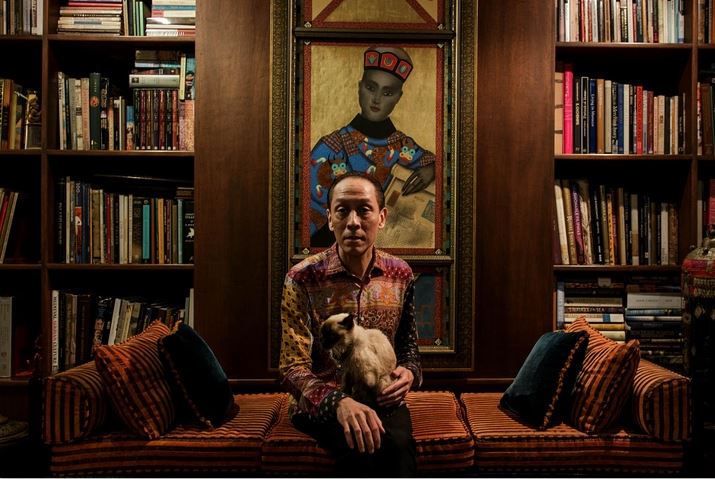 Mark's grand exhibition is contained in a floor-to-ceiling of a 1930's-styled Chinese warehouse inside the Ayala Museum. It gave me goose bumps entering the dimly lit "Chinese warehouse" which somehow reminded me of Chinese stores I had entered during my youth spent in Silay City and Bacolod City, Negros Occidental. The Chinese warehouse of Mark has about 30 of his paintings along with the Ayala Museum's collection of Philippine archeological gold, both indigenous fabrics and piles of Chinese silk textiles, costumes, Chinese and Southeast Asian trade ware ceramics, Philippine anthropomorphic figures in wood, among others, which would surely make antique collectors marvel at.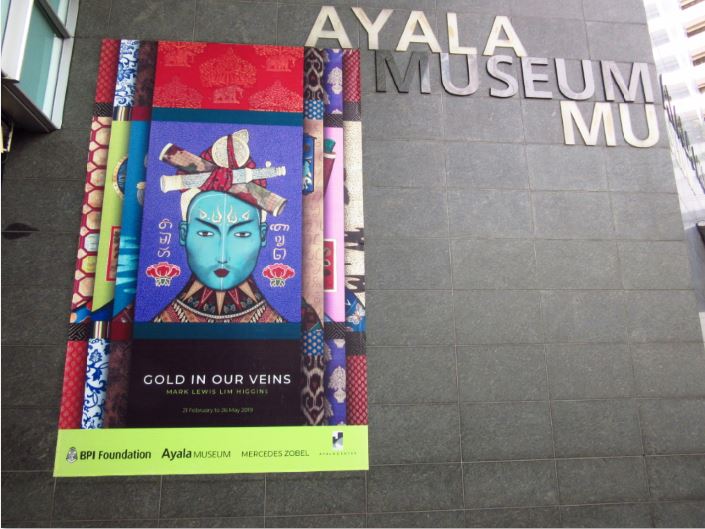 "The paintings are a celebration of the richness of our past that is deeply rooted in our DNA and of which many Filipinos have never even been aware…Far beyond the limits and borders of what become countries or nations, we are all maps of our ancestors. This is my tribute to the gold that flows in all of our veins," said the brilliant and philosophical artist that is Mark Lewis Lim Higgins.