For the first time, visual artists from different groups in Davao City participated in a  painting collaboration with differently-abled artists who belong to  the Deanna Sipaco (DS) Foundation for the Differently-Abled, Inc.
On selected days last month, 19 professional artists paired up with a member of the DS Foundation to create an artwork that reflects both artists' creative expressions, and on a more sublime level, to foster collaboration with and inclusion of differently-abled persons in the area of visual arts.
The DS Foundation is composed of people with Down Syndrome, persons on the autism spectrum disorder, persons who have a physical disability such as hearing impairment and people who have other types of intellectual disability.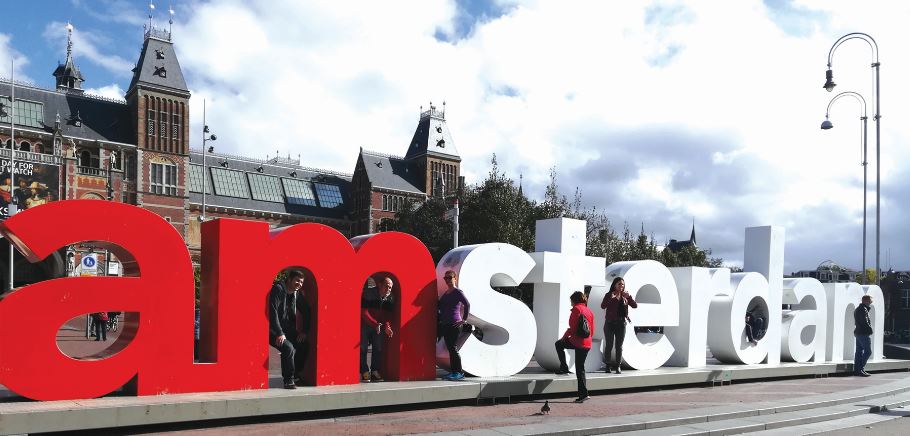 The experience was significantly memorable for the artists, since most of them admitted to working with differently-abled persons in a painting session for the first time. They not only got to mentor them from a distance, but they worked closely with them, painting colors on a canvass and finishing the artwork hand in hand. "It was challenging and fun. Challenging, because I don't know how to go along with them but I tried to be friendly and understand them," says artist Jane Ramos, a Fine Arts alumna from the Ford Academy of Arts who worked with Ranuel Nobleza, a 17-year-old person with autism. "I wanted Ranuel to freely do his own style. So, I put paint on the canvass and then he spreads it as he wills," adding that it was fun watching his partner smile while painting.
The same experience is echoed by Leo Patos, member of the Group of Aspiring Mindanawon Artists (GAMA), who worked with Ronace Coprada, a 29-year-old person with Down Syndrome. "It's not easy, especially in communicating with them, but it was a fun experience. I asked Ronace what she wanted and I supported her by drawing it."  He even hoped to participate in more activities like this to further develop the painting skills of differently-abled persons and said that their group is willing to mentor them however and whenever they can.
The 17 other  mainstream artists who enthusiastically collaborated with the differently-abled artists were Tricia Borbon, Nina Custodio, Joann de Castro, Robin Castillo, Miyen Lim,  Zhor Junavee Antocan, Rolando Pino-on, Jose Jojo Jimenez, Brigel Razonable, Rubemel Monica Bustamante, Dinky Munda Jr., JC Gonzales, Jong Tangiday, Pinx Gaspe, Donn Manguilimutan, Rey Fuentes and Daryl Descallar. They are members of GAMA, Tabula Rasa, Morning Light Gallery and United Durian Artists.
The other members of the DS Foundation who participated were Liezle Ybañez, Benrafii Omar, Cresten Costan, Barbie Hong, Michael Redoloza, Noben Montederamos, Iris Orzales, Niño Responso, Jenilyne Tadle, Moses Ibañez, Jose Angelo Patal, Luis Raphael Gumban, Noreen Marie Espina, Alvin Redulosa, Roxxann Dado and David Jason Lim.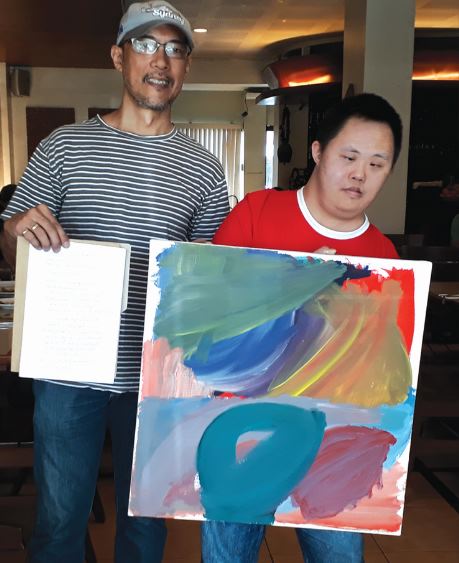 The Deanna Sipaco (DS) Foundation for the Differently-Abled, Inc. was founded by Atty. Alberto B. Sipaco Jr. and Diana Cuison Sipaco in 2001 and their daughter, Deanna (1972-2005), who had Down Syndrome and a special flair for the arts. A non-profit, non-government, humanitarian organization, the DS Foundation currently offers therapy in the form of art and dance workshops, and helps people from all walks of society realize that people with disabilities are born with talents, are capable of learning skills, and have a permanent place and purpose in society.
"Arts has played a major part in the lives of our members. We have members who are nonverbal, and painting has been an avenue in expressing themselves, their creativity – something that words can never do," Diana Sipaco, the foundation's executive director said. "Our painting workshops and other activities are given free-of-charge so that it is accessible to persons with disabilities who belong to low-income families who could not afford the high-cost therapy services currently being offered."
Margaret Ibañez, parent to 22-year-old Moses who has down syndrome, attested to how arts has been therapeutic to her son in many ways. "Moses sets his own mood when it comes to painting. Mostly on his sleepless nights, he would turn to painting or doodling to relax and calm himself. Afterwards, he can get a good night's sleep." Moses teamed up with renowned visual artist member of the Tabula Rasa Art group, Dinky Munda, Jr. in their painting collaboration.
The DS foundation and its members have experienced many firsts and milestones in its 18 years of operation, and the painting collaboration with Davao's mainstream visual artists is the newest addition to the list, paving way and creating opportunities for an even bigger project. In addition to advocating inclusion in visual arts, the painting collaboration was an initiative to raise funds for the participation of DS Foundation members to the 2019 Asia Pacific Accessible Arts Festival (2019 APAAF) in Macao, China from June 3-5, 2019. The DS Foundation is the first and only Philippine delegation to the 2019 APAAF.
That arts is universal and is the driving force uniting people across all backgrounds and varying inclinations has been proven true once more in this unique endeavour made possible by our very own local visual artists – professionals and differently-abled alike.      By Izza Aima Montederamos
To inquire about DS Foundation, please contact Dayenne Sipaco at 09392651403.
Photo right: One of the participating artists David Jason Lim working on his painting while her mother, Ms Nelly Lim assists him. He collaborated with Tabula Rasa artist Daryl Descallar who wrote a poem relating to the art piece created by Jason. Photo below: David Jason Lim the artist painter and Daryl Descallar with their art project. The two artists completed their work at the Chicco Di Caffe along Roxas Voulevard, Davao CIty