In the midst of the sweltering summer heat, news of lack of water, and annoying protests with the results of the recent election, I made my short trip to Manila to join my Almeda cousins in celebrating their mommy dearest Dr. Elsa Ebro-Almeda's 93rd birthday.  It was an invitation I couldn't refuse as my aunt Elsa requested me to join in the celebration with her children flying in straight from the USA.  Her youngest daughter, Mariels Almeda-Winhoffer, who became the first ever lady President in the history of IBM-Philippines, also sent me a message asking me not to miss the celebration for after all, her mom is 93 years old and one of the only three Ebro sibblings remaining with my ninong, lawyer Jose Romana Ebro, and aunt Lucy Ebro Pelayo. "It's time to gather the Ebro clan once again for a happy celebration and reunion," my dear cousin excitedly told me with a threat that if I don't appear, she would never talk to me again.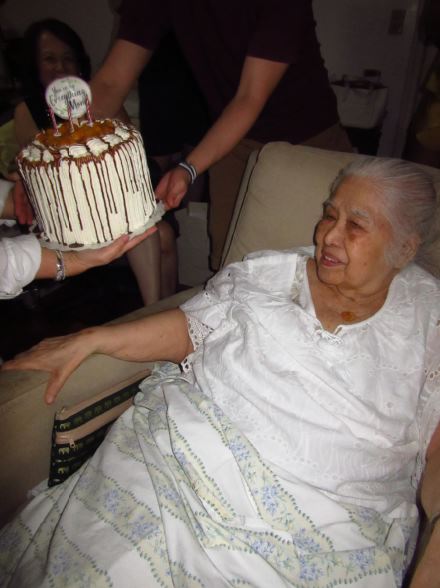 This time, it was the Manila-based son, Joey Ebro Almeda, who planned the party.  Since tita Elsa requested for Japanese cuisine, Joey chose Manmaru Japanese Restaurant at Makati's Little Tokyo area in Legaspi Village for our gathering.  Manmaru Japanese Restaurant specializes in Osaka regional cuisine since the Japanese owner, Joey's friend, is from Osaka City. I was informed by a Japanese waitress whom I talked to in Japanese.  However, that May 17 celebration at Manmaru, which I happily attended along with my sister, Dr. Marisa D. Villaroman, and my brother, lawyer Raymond E. Dakudao who flew in from Vancouver, did not have the birthday celebrator in attendance.  Dear tita Elsa was not feeling well that her doctor advised her to stay at home instead.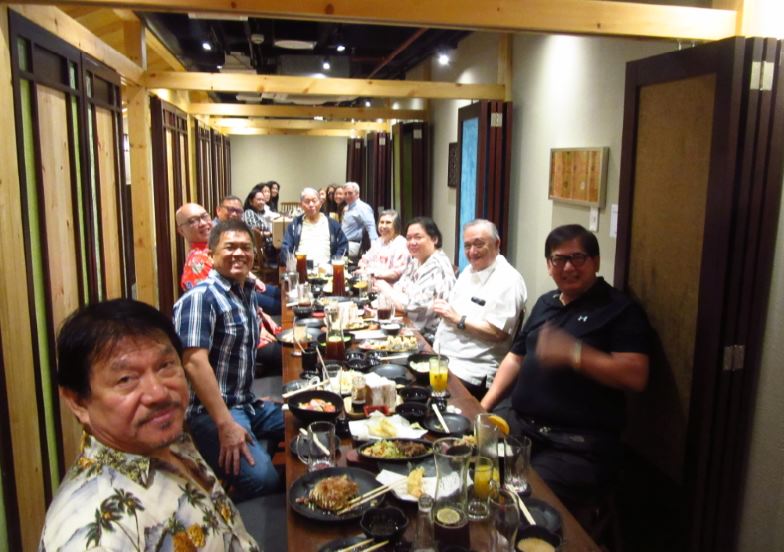 It was after feasting on various Japanese cuisine that we all decided to go to tita Elsa's residence in Urdaneta Village, Makati City, to greet her personally. In attendance were the Winhoffer family of Mariels, Trisky Almeda-Singian and Ruby Ann Ebro Almeda who flew in from New York City, Atty. & Mrs. Jose Romana Ebro, Jr., Dr. Manny E. Almeda, Joey E. Almeda, Chito Quintos with his daughter Coriche, Jajo and Chiqui Quintos and us, Dakudao sibblings.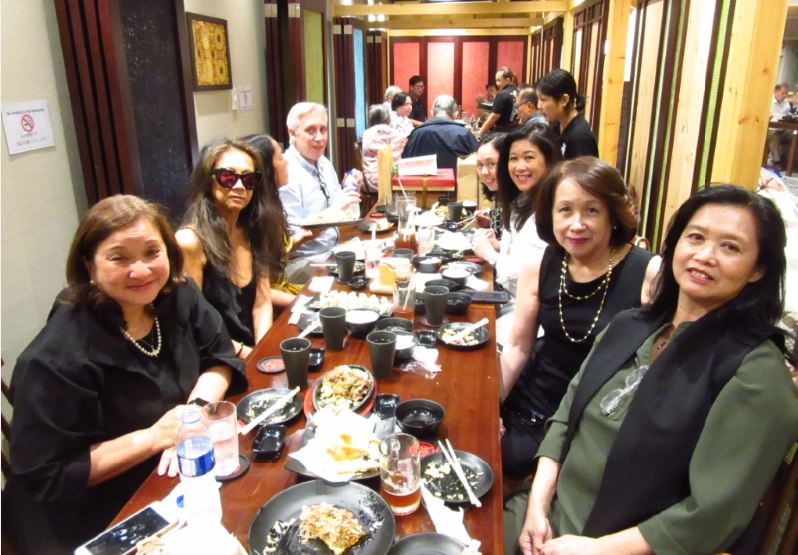 The Ebro matriarch, Dr. Elsa Ebro-Almeda is a most accomplished second daughter in a brood of six of Datu Bago Awardees (2001) Dr. Jose Militante Ebro, Sr. and his wife, nurse Mamerta Romana Ebro.  The Davao-born Ebro siblings include Concepcion E. Nacionales, Elsa E. Almeda, Marietta E. Dakudao, Lucia E. Pelayo, Jose Romana Ebro, Jr. and Antonietta E. Quintos.  Medical doctors Lito and Elsa Almeda's children are Trisky Almeda-Singian, Ruby Ann E. Almeda, Dr. Manny E. Almeda, Joey E. Almeda, Maribeth Almeda-Quintero and Atty. Doy E. Almeda.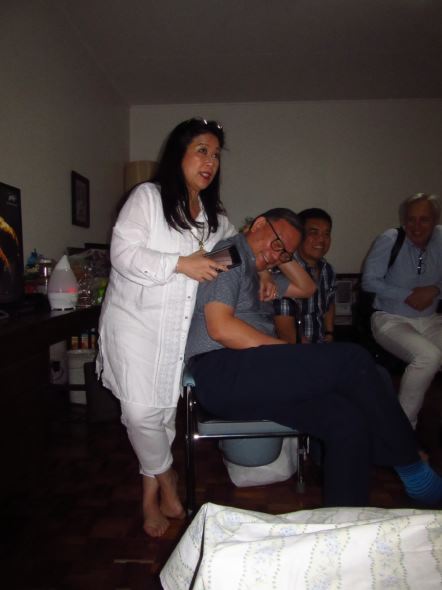 Naturally, the topics for discussion that day included President Rodrigo Roa Duterte's choice new senators and his administration's promised changes in governance; ailments of aging parents and relatives; analysis of the defeat of aging politicians like Juan Ponce Enrile and Joseph Estrada, among others still.  It was, indeed, a happy celebration of the gift of life of tita Elsa.
The following day, Mariels invited me to join her family to a trip to the posh and exclusive Balesin Island Resort in Polillo, Quezon.  I had to beg off for lack of time.  Instead, Jajo and Chiqui Quintos hosted lunch for me at the popular Wild Flour Cafe, "a world class restaurant business established in 2012 in Manila."  I am quite close to Jajo and Chiqui as we were together in U.P. Diliman during our college days.  Jajo and his family made my provinciano adjustment of having to live in Manila more comfortable.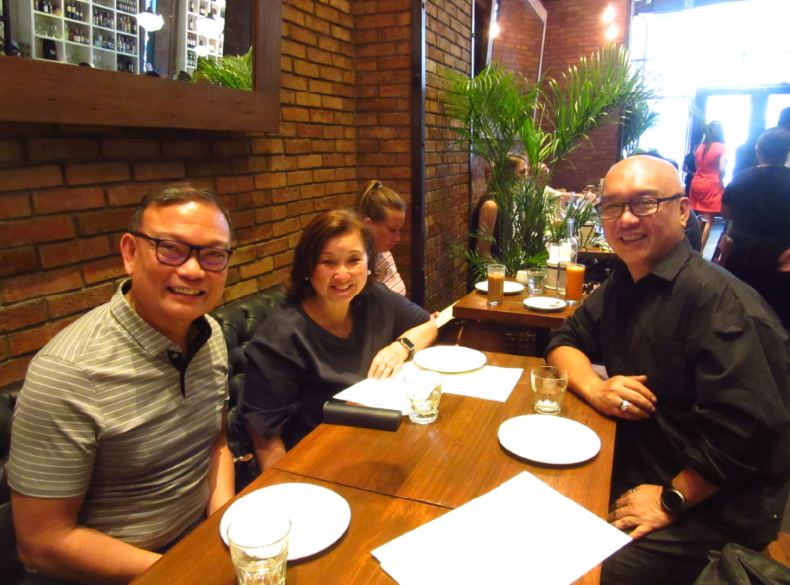 Oh yes, I also had the chance to visit the new Intramuros Museum with my friend, Archt. Aimee Maceda-Aquino, the first cousin of Baby Maceda-Montemayor.  On my last day, it was my comare Archt. Susan Ejercito-Lasala's turn to treat me to lunch at the New World Hotel.  We naturally talked about the unexpected defeat of her immediate Ejercito relatives during the recent election.  Indeed, Filipinos want changes in leadership this time. I hope the new breed of politicians will not fail us.  So help us God.