The Bangsamoro Autonomous Region in Muslim Mindanao (BARMM) was formally inaugurated at the Shariff Kabunsuan Cultural Complex in Cotabato City on March 29, 2019, a vision long imagined by those who worked for years to make this new social order a reality.
For Fatima Pir Tillah Allian, the hard work has just begun.
As program manager of the Nisa Ul Haqq Fi Bangsamoro (Women for Truth and Justice in the Bangsamoro), Fatima joins other advocacy groups in pinning their hopes on BARMM, bearing in mind the years fraught with anxieties and uncertainties as they pushed for the passage of Republic Act 11054 or the Organic Law for the BARMM.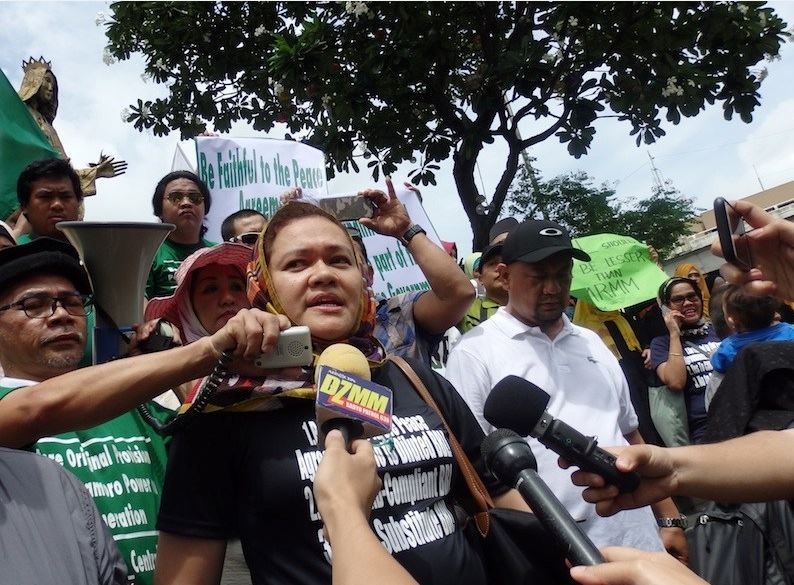 It was an arduous process.
"It took us one year of preparation before we started lobbying in Congress for the bill," Fatima said.
From 2014 up until 2016, they studied Bangsamoro history to understand why there is a clamor for the bill's passage, the Bangsamoro Basic Law (BBL) as it was known then, and the different documents and agreements signed by the Moro National Liberation Front (MNLF) and the Moro Islamic Liberation Front (MILF) with the government. Then Federalism came up, which they also had to study.
These three tracks: learning Bangsamoro history, the peace agreements and Federalism, enabled them to articulate, somehow, the points they wanted to raise during the actual lobby work. They identified two kinds of audience: the community and government–with clear messages on how to engage them in their advocacy.
The second hurdle was to understand that the struggle is not about a particular sector but about the people in the community who suffer from the injustices through the years.
"We have to ensure that they are all part of the conversation," Fatima said.
The third is how to bring the process into the national consciousness of the Filipino people.
"How are we going to tell Filipinos across the country that this process will have something good for all of us? That this would mean better governance, there will be no wars, and if there are no wars, there will be the trickling of funds that will go to education, health, and therefore will contribute to a better society," Fatima said.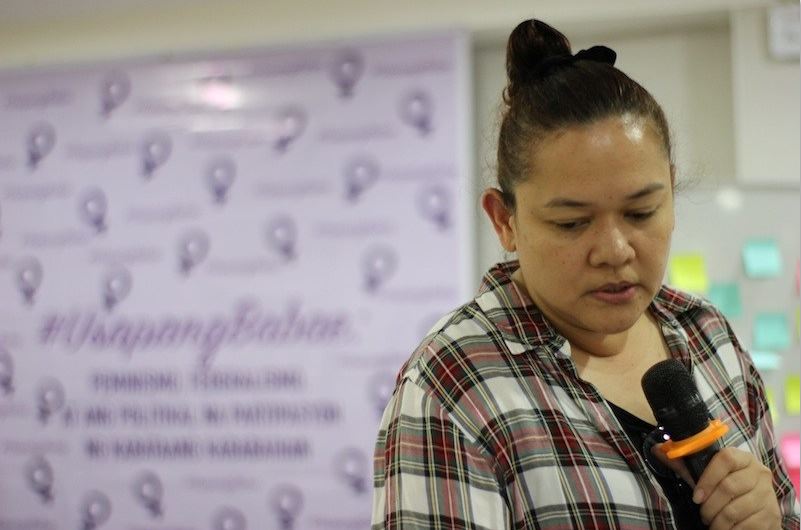 Women in governance
RA 11054 has significant provisions on women. Article IX Section 11, provides for the participation of women in the Bangsamoro government. There is a reserved seat for a woman in the Parliament and at least one will be appointed to the Bangsamoro Cabinet. "But what needs to be discussed further is the criteria. We should talk about who should be there not only to represent women in the Bangsamoro but also women in the diaspora," Fatima said.
Fatima explains there are Bangsamoro people living outside the core territories because they were marginalized or were dispossessed of their lands due to the conflict. They have no choice but to live outside the territory
Fatima identifies herself as part of the diaspora.
She was five months old during the burning of Jolo, Sulu on February 7, 1974, and her family fled to Siasi in the same island. When she was five years old, the family moved to Manila where she grew up being discriminated upon because of her religion. Her parents advised her to "elevate the discourse" by performing well in school, in effect breaking the Muslim stereotypes prevalent outside Mindanao.
In Manila, Fatima tried her hand in the corporate world but did not make the cut. She eventually returned to her roots, taught at the Western Mindanao State University and immersed in the NGO Nisa Ul Haqq Fi Bangsamoro where she is program director.
At 45, she has not stopped working for peace in her homeland.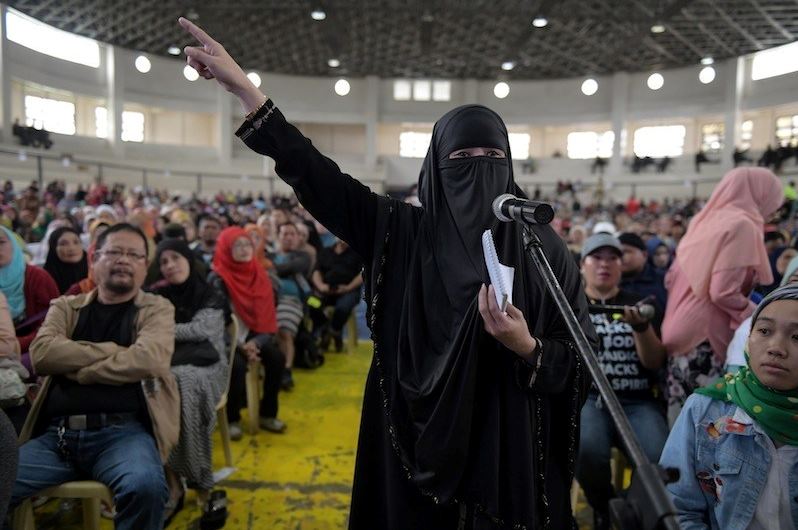 In transition
"Let's put everything in perspective," Fatima said. "First, people should understand that we are now in transition, that means there are some adjustments to be made. We have to give leeway to the Bangsamoro Transition Authority (BTA) because at this time, they have five major bills to craft. The Administrative code, for example, is a very difficult one. There are many things the BTA has to iron out only within three years."
Fatima is positive the women who are in the BTA will be bringing in the agenda that would be gender responsive, sensitive and advantageous to women. She mentioned lawyers Raissa Jajurie and Laisa Alamia who are gender advocates and are now part of the BTA.
Jajurie is now Minister of Social Services while Alamia is Minority Leader.
Still, Fatima thinks "there needs to be a clearer women's agenda for the BTA but we also have to be very careful that this won't be separate from the government's consciousness."
She cited that a few years back, when they were still lobbying for the passage of the BBL, they separately campaigned for specific women's issues such as health, governance and justice.
Inclusive
"We should be inclusive, it (agenda) should not separate us but should unite us to make us stronger," she said.
Women's issues should be viewed not as a certain sector but in a general sense because this will benefit all women regardless of what sector they belong, or whether they live within or outside the Bangsamoro.
Among the women considered to be the most marginalized are the IP women in the Bangsamoro.
"One thing good about the Bangsamoro organic law is that we have IPRA (Indigenous Peoples Rights Act) in there. They also have a seat in the parliament. It is just a matter of who will be representing them. If you look at the law itself, there is really no problem," Fatima said.
Women in civil society organizations are in a good position to bridge the community with the parliamentary, and facilitate better communication and dialogue. She said this needs to happen so that voices of women can be truly heard.
Gender justice is also part of the conversation. Fatima said there is a bill pending in Congress which needs to be pushed and passed as a law because it recognizes the injustices done by the different perpetrators in the Bangsamoro homeland and outside the core territory.
She also said the Internally Displaced Persons (IDP) bill should be passed because it caters specifically to their needs. This is all inclusive, meaning everyone should benefit whether or not she is living in the territory.
Hope
What is the hope in this new social order? Fatima said, realistically, "we still need a lot of work in capacitating women to better articulate what needs to be done. Most often than not, the CSOs (civil society organizations) are the ones talking on their behalf. I think it is about time that the CSOs step aside and try to capacitate these women so that they are able to say what they want to say and the women CSOs will be their sisters and their partners. That's one hope i would love to see. Insha Allah."
She also talks of giving space to women at the grassroots, the farmers, fisherfolk, women who are living in far-flung areas, women who run a sari-sari store or sell tomatoes in the market, mujahidat, daughters of mujahideen and mujahidat, widows – everyone. Fatima said they need to have space to lay out what they need and to say to the new government "this is what we want, listen to us!"
"And I hope that women, like ourselves, can also be the bridge between the parliament and those in the grassroots community. Women who are professionals, in the academe, in the religious sphere should also be able to talk to each other," she said.
"It doesn't mean our job is finished. Actually, we are only starting, this is where the hard work is starting," she said.
Fatima believes that women have the capacity to be a better mediator.
"So if we hear women or men losing hope because the process is long, I think women can come in and say look, we should be open because we still have to discuss the system. There are laws that should be in place but our budget is this."
What is lacking, she said, is the mechanism to engage those in the grassroots by helping them understand what is going on, that this is a process and not a dole out. This is where the CSOs should work on. While the BTA is working on putting structures, women can go to the community explaining what is happening and its timeline so they can manage their expectations of the new government.
She stressed that people should understand that this is a new government, there are new faces, a new system. Women CSOs should go to the grassroots community, urging them to be a little more patient because one thing is sure — there is a process, albeit excruciatingly slow, it is moving, there is an office, there are faces and there are people.
(Amalia B. Cabusao is editor-in-chief of Mindanao Times in Davao City. She is also the training director of the Mindanao Institute of Journalism which runs MindaNews. This piece is part of a series on Women in the Bangsamoro, produced by MindaNews with support from the Embassy of Canada)