Davao City – It's a green light for this year's edition of the National Private Schools Athletic Association (PRISAA) which reels off in grand rites on May 19 at the University of Mindanao Matina grounds.
"We are all set to host this year's National PRISAA Games. It is our first time to host here in Davao and thanks for the big help from the City Government of Davao and the University of Mindanao," said PRISAA National President Lita Montalban on Thursday's edition of the Davao Sportswriters Association (DSA) Forum at the SM City Davao Annex.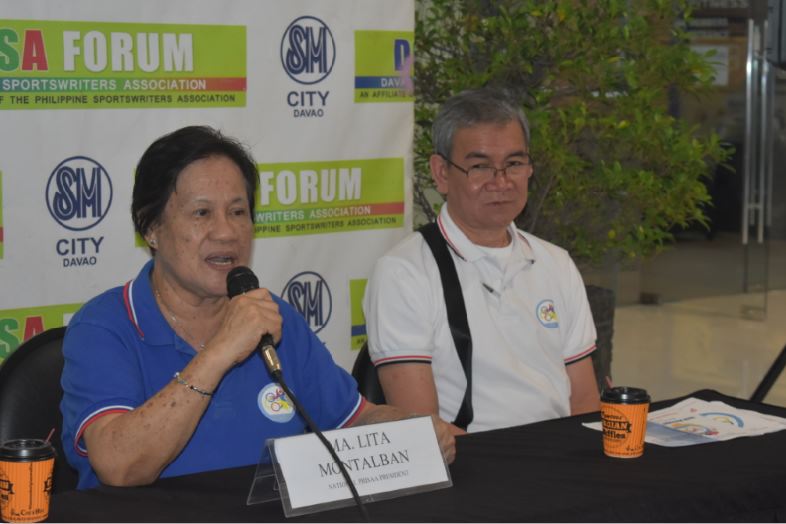 The five-day scheduled Games which will have a total of 7,000 athletes and coaches from the 16 participating regions will have its grand opening rites on May 19, 4 p.m. at the University of Mindanao grounds highlighting the parade of teams and speeches from the different dignitaries expected.
No less than Mayor Inday Sara Duterte-Carpio has been invited as one of the guests along with CHED Chairman Dr. Prospero "Popoy" de Vera III, University of Mindanao President Dr. Guillermo "Willie" P. Torres Jr. and Philippine Sports Commission (PSC) Chairman William "Butch" Ramirez.
The participating delegates from the 16 regions will compete in 19 events which mostly will be played at the University of Mindanao grounds.
Aside from the University of Mindanao, games will also be played at the Rizal Memorial Colleges and Davao City Recreation Center (Almendras gym) for basketball and in nearby Tagum City for swimming and beach volleyball.
As for the hosts, Montalban is optimistic that they will surpass last year's standing for both high school and college categories.
Region XI placed second in the high school and third in the college level in last year's Games with high medal chances this time in athletics and swimming.