Unscheduled power interruptions hit some parts of the city in yesterday, causing inconvenience to some voters.
Areas served by the Panacan Substation of Davao Light and Power Corporation (DLPC) – from Diversion Road crossing Mamay Road going to Panacan Proper up to UM Ilang in Tibungco — experienced a two-hour brownout yesterday morning.
The brownout started at 5:47 a.m., just minutes before the 6 a.m. official voting schedule.
Power outage on majority of the affected areas was restored at 6:53 a.m. DLPC declared full restoration on all areas at 7:52 a.m.
On a Facebook status posted by the DLPC on their page, it said the restoration was implemented by temporarily transferring power load from the affected substation to nearby lines.
"Davao Light substation engineers conducted immediate repairs in the said substation to avoid occurrence of the incident."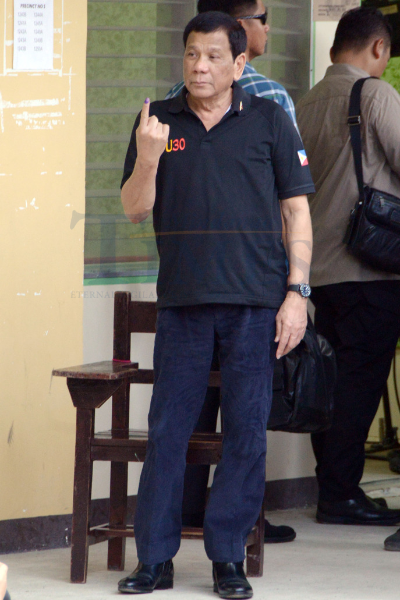 DLPC Reputation Enhancement Assistant Vice President Rossano Luga said the unexpected outage did not really affect the voting schedule because "we were able to restore power early in time for the voting".
In spite of that, DLPC still conveyed its apology for the inconvenience it brought not only to the election and also to the residents.
Power outage was also reported in Sitio Polokon, Barangay Megkawayan in Calinan District at 6:30 a.m. and was restored at 7:14 a.m.
Part of Barangay Bangkas Heights was also affected. The principal of Bangkas Elementary School contacted one of the emergency service crews of DLPC at 4:41 p.m. due to power supply problems which was immediately resolved at 5 p.m. after they sent an accredited electrician.
Last week, the DLPC assured no power interruption during election day as they bared their contingency plan that covers before, during and after preparation and immediate response for the election.
Arrest
Meanwhile, 45 individuals were arrested for various election-related violations since Sunday morning in the region, initial reports from the police offices revealed yesterday.
As of 3 p.m. yesterday, the Regional Election Monitoring Action Center (Remac XI) under the Police Regional Office recorded at least 43 persons accosted for violating the liquor ban, which took effect 12 a.m. on Sunday.
Eight were arrested in the city, while the rest were in Compostela Valley. No reports yet from other provinces.
In Davao del Sur, two men were arrested for allegedly distributing and giving money with sample ballots to residents of Barangay New Clarin, Bansalan around 10 a.m. Sunday morning.
The suspects were identified as Jennifer Pangpang Abellanosa, 47, and Rodelo Juanilo Salupan, 39, both of Sitio Sto Niño, Bansalan.
Police Regional Office 11 Director Brig. Gen. Marcelo Morales said the two were allegedly caught by barangay officials in the act of giving money to the voters.
Recovered from their possession were seven empty small brown envelopes, a small brown envelope containing P500 with sample ballot, a bond paper containing the names and signatures of the persons who already received envelop contacting money and sample ballots, and a yellow paper containing the names of the persons who will be given money and sample ballots.
Agents from the Bansalan Municipal Police Station, under the supervision of Maj. Rodante Variona, and the augmented personnel of the Regional Mobile Force Battalion, led by Maj. Alan Verginiza, went to Barangay New Clarin after validating reports on the alleged vote buying.
Barangay Chair Hamiel Portarcos of New Clarin turned over the two suspects.
The PRO 11 – Task Force Kontra Bigay also respondents to a number of vote buying incidents in other towns.
But reports in Asuncion, Talaingod and Dujali in Davao del Norte; Monkayo in Compostela Valley; San Isidro and Lupon in Davao Oriental all turned out negative.
Since the eve of the election, Morales personally led the round-the- clock inspection of the different municipalities and cities in the region to ensure full-length implementation of security measures.
Through SAFE (Secure and Fair Elections 2019) Ride, the motorcycle-riding Morales was accompanied by the members of the Command Group in the inspection to check on the status, particularly on area placed under the election hotspots. (with Rhoda Grace B. Saron)