Davao City – Region XI-DAVRAA wrapped up their campaign with a silver medal at the close of the basketball 3-on-3 competitions, Friday at the Holy Cross of Davao gym.
Mostly composed of Ford Academy of the Arts hoopsters, Region XI-DAVRAA fell short for the gold medal losing to Region III-CLRAA in overtime, 20-19 during the finals.
Having Ford Academy of the Arts' trio of Jude Paolo Requillo Bagay, Rain Coquilla Maga and Clent Rowell Padriquela along with Clint Crodua Olea of Samal on its roster, Region XI-DAVRAA stage a rally after being down by eight points. They managed to drill three consecutive threes to tie the count at 18-all at the end of duration.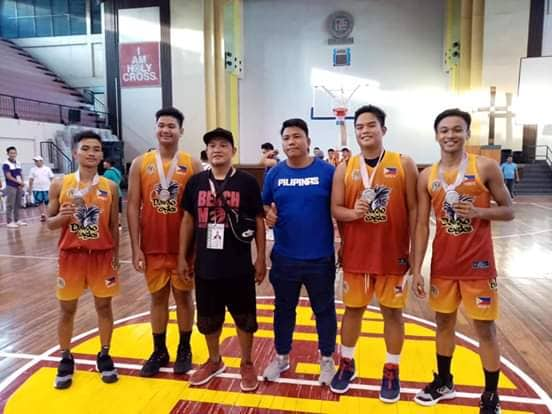 Region XI-DAVRAA scored its first point in overtime courtesy of Bagay before Region III-CLARAA canned a pivotal three to seal the match-up.
"We did everything. We lost the game but by heart we are winners, we fought the hard way, God knows how we work so hard for this. We are proud silver medalists," said headcoach Chris Quiamco.
Region XI-DAVRAA bested Region VII-CVIRAA, 12-9 in the quarterfinals before nipping Region XII-SRAA, 16-14 in the semifinal round.
Over at the University of Mindanao Sports Complex, Region XI-DAVRAA managed to grab a silver medal in the Secondary boys 4×100-meter run. Allen Zosas delos Reyes, Dareen Glenn Palisoc, Raul Abasolo Cultivar II and Lyle Marco lived up to their billing as top contenders but only fell short next to runners from Region VI-WVRAA.
In volleyball, Region XI-DAVRAA's Secondary boys squad settled for the bronze medal match today, May 4 after losing to NCRAA, 18-25, 24-26 in the semifinals played at the Davao-UP Sports Complex Human Kinetics gym. They play Region VI-WVRAA for the bronze.
Their female counterparts will also play for the bronze medal next to Region VIII-EVRAA after losing to NCRAA, 12-25. 25-27 in the semis.