In Antoinette Jadaone's new film Alone/Together, we see the characters of Raf (Enrique Gil) and Tin (Liza Soberano) lock lips amid a school fiesta while Rivermaya's Awit ng Kabataan (Song of Youth) is blaring in the background. This is perhaps the only scene in the film where there's a display of youthful exuberance, our young lovers in the cusp of life's great possibilities, unmindful of the harsh realities that will challenge and change their life and character forever.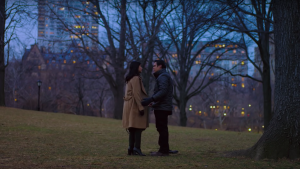 But not only youth, there is also ambition and idealism, as Tin, an honors student, dreams of working in art institutions abroad, and to use this knowledge and contribute towards the betterment of her own country. We've heard this impassioned declaration before, the youth vowing to change the world with their lofty ambitions, and it is always met with a warning and reality-check, a kind of making-sense of the world coming from adults who think they know better having gone through the same paths armed with the same missions and ideals. And in the film, Tin is caught between resignation and resistance. From systems that diminish the youth's enthusiasm before it is realized and made whole by real-world practice and from structures that quashes and devalues this sense of idealism with the conveniences of adhering to practicalities.
When Tin gets embroiled in a corruption scandal in an NGO she is working caused by an erring boss, she is forever changed and so is her relationship with Raf. She calls it quits after three years despite Raf's incessant wooing. They later meet after five years in an awarding ceremony both engaged to different persons. Raf is now a doctor, and a celebrated one at that, having served as a Doctor to the Barrio, and Tin, now together with her boss who apparently saved her from the fiasco she got embroiled in.
Alone/Together is more a reckoning of the past as both Tin and Raf try to pick up the pieces of their relationship, rectify mistakes, and regain the dignity lost by their wasted youth. The film is clear on how our personal histories impinge on our present. Memory is a traitor; the film's trailer declares, and that the only way to deal with the present and think about prospect of a better future lies in coming to terms with our histories. This is already made apparent at the beginning of the film, when Tin an Art Studies major, sidelining as tour guide inside the National Museum of the Philippines talks to high school kids about Juan Luna's Spoliarium. Her brief lecture weaves information and instruction, about the art itself and history. We must never forget the past, she repeats.
But that scene takes a more poignant turn with the introduction and intrusion of Raf. Tin, perhaps in trying to connect art to a larger, more popular cultural canvass. The film also attempts to question the role and relevance of art in societal change in general. She relates it to the Eraserheads song of the same title but mistakenly omits the letter I. She insists that the song is "Spolarium" but Raf, being an E'heads fan, is relentless in correcting her, giving her the CD of the Sticker Happy album, which contains the song. This part of the film struck me the most as it foreshadows the function of Raf's character as a corrective. Despite the moral complications of their meeting in New York, where Tin finally gets to see the art and museums of her dreams, there is a larger force at play, and that is that mistakes of the past can be remedied if it is at first acknowledged and there is a genuine attempt at rectification.
The song Spoliarium is a clever reference because of its own place in Pinoy pop cultural discourse. While the band remains uncertain of its reference to the Pepsi Paloma case as a kind of erasure of history and truth, the song's lyrics for me also hints at a kind of reckoning of the present and one's existence in an uncaring, unchanging world that constantly moves and revolves around you.
In the film, there is this visual rendition of this stasis that recalls the passage of the character in Abbas Kiarostami's Like Someone in Love—where we see Tin alone at the back of the car, the camera captures her from both outside, where her world and her dreams pass by her in the reflections, and in the interior where she is silently ruminating. We are rooting for her to finally break free from the stasis and resist the life she has been relegated into. So, when she does, it comes both as a corrective and a release.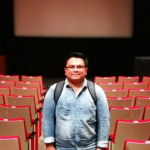 Jay is a film critic and film programmer for Pasalidahay, a film collective in Davao composed of film enthusiasts and filmmakers advocating for Filipino film appreciation.